A new project to produce biogas from sewage discharged by cargo ships has been launched in Finland.
Sewage from cargo ships may be legally discharged into the Baltic Sea, subject to compliance with national regulations, but this causes an increase in nutrients – a process known as eutrophication – which in turn can damage marine habitats.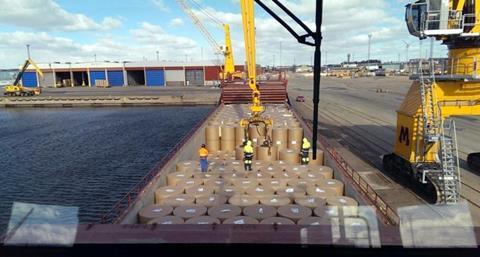 The Baltic Sea Action Group (BSAG) is bringing together parties to work on the new Ship/t Waste Action, an initiative to collect this waste and turn it into biogas for use by heavy traffic. Finland's largest port, HaminaKotka, has been chosen as the first location.
"We can achieve our objective of a cleaner Baltic Sea, one ship, one port and one country at a time," said Elisa Mikkolainen, project director at BSAG.
"The nutrient load on the sea decreases every time wastewater is discharged at the port. We need extensive cooperation to succeed in our mission," she added.
Since 2021, IMO regulations have prohibited discharges of untreated sewage from passenger ships, although these ships have been voluntarily discharging only at port for years. There is no similar regulation for commercial shipping and 95% of the sea-going traffic in the Baltic is cargo ships. There is a real impetus therefore to reduce this waste, protecting the marine environment from eutrophication and oxygen depletion.
Ship/t Waste Action at HaminaKotka
Water company Kymen Vesi treats the sewage discharged by cargo ships at the port of HaminaKotka. The resultant sludge is then refined at Gasum's biogas plant producing renewable energy. Kymen Vesi also takes samples of the wastewaters, providing data for use in research projects.
Other parties involved in the cooperation include shipping companies both from Finland and overseas such as Meriaura and RABN, Essberger & Stolt Tankers, Utkilen and Maersk. Shipbrokers C&C Port Agency, Dahlberg's Agency and GAC Finland are also participating whilst transportation company Autoyhtymä Vuorinen is responsible for transporting the sewage.