In late December, Jiangnan Shipyard completed the delivery of Pacific Ineos Belstaff, the first of a series of four 99,000m3 Very Large Ethane Carrier (VLEC) under construction at the yard. The first IMO Type B Very Large Ethane Carrier to be delivered, the vessel is also the largest VLEC afloat.
The 230-metre long, 36.6 metres beam gas carriers are designed for long haul ethane transportation but can also handle other liquified gas cargoes such as LPG and ethylene.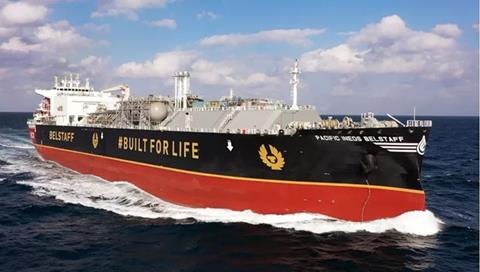 As previously reported by The Motorship, the vessels will be chartered by Pacific Gas, the shipping unit of Shandong Marine Group. It is understood that the vessels will be deployed in the transport of ethane from the US to Europe on behalf of UK petrochemicals group INEOS, which is investing in a new ethane gas cracking facility in Antwerp.
The series of vessels will be propelled by MAN Energy Solutions' ME-GIE two-stroke diesel engine capable of operating on ethane as a fuel, while the vessel will also feature a direct-drive, permanent magnet shaft generator.
The vessel is the first VLEC to feature the BrilliancE Type B cargo containment system developed by Jiangnan Shipyard. The BrilliancE Type B containment system is based on independent stainless steel tanks surrounded by multi-layer insulation panels. Jiangnan Shipyard is seeking to introduce the technology into the LNG carrier sector.
Speaking at the time of the ABS-classed vessel's launch in September 2021, Sean Bond, ABS Director, Global Gas Development described the vessel as "a key milestone in the development of the industry. It's significant not simply because of its scale but in the flexibility, it offers operators to adapt to an evolving global marketplace."