Norwegian operator Torvald Klaveness has commissioned the first in a series of combination carriers representing a development on the unique CABU (caustic soda/bulk carrier) concept, writes David Tinsley.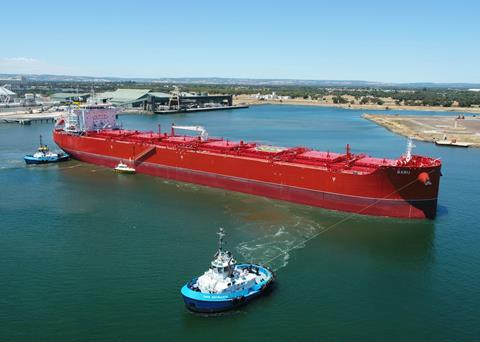 The 83,500dwt Baru provides the debut for the CLEANBU class, blending enhanced emissions performance with the CABU's flexibility to switch between dry and liquid cargo shipments in dedicated trade patterns, minimising ballast voyaging.
Six CLEANBU carriers were ordered from Jiangsu New Yangzi Shipbuilding, to complement the existing nine vessels of the CABU type, and all 15 units have been assigned to the March 2018-created entity Klaveness Combination Carriers (KCC). Fixed-price options are held by KCC on an additional four CABUs to be constructed by the Chinese yard.
In recent weeks, Klaveness has signed a contract of affreightment (COA) with one of the leading Australian importers and distributors of clean petroleum products for shipments using CLEANBU combination carriers. The COA covers multiple cargoes over a period of 12 months, commencing during the second quarter of this year.
The COA is an important milestone for the introduction of the CLEANBU series and the validation of the concept in the clean products market. KCC's CLEANBU service to Australia will meet demands for a reliable and substantially more climate-friendly solution for clean product transportation. KCC asserts that the CLEANBU tonnage, through its unique design and trading pattern, will secure a reduction of 30-40% in CO2, SOx and NOx emissions compared to standard tankers.
The CABU design was originally formulated to suit the particular needs of the aluminium industry, while also offering wider trading potential. The company's nine CABUs, ranging from 72,500dwt to 80,500dwt, each has the capability to transport caustic soda solution, floating fertiliser(UAN) and molasses, as well as all types of dry bulk commodities.
The CLEANBU type is both a fully-fledged LR1 product tanker and Kamsarmax bulk carrier, catering for clean petroleum products, heavy liquid cargoes such as caustic soda solution, plus the gamut of dry bulks.
Slightly beamier than the preceding CABU design, the CLEANBU iteration is powered by a six-cylinder model of the X62 two-stroke engine, manufactured by Hyundai Heavy Industries under licence from Winterthur Gas & Diesel (WinGD), and turning a fixed pitch propeller. The auxiliary outfit is based on three diesel generators driven by Daihatsu 6DE-23 engines produced by the Japanese company's Moriyama division.
Following the Baru, the five other firmly-booked CLEANBU newbuilds are scheduled to be delivered between May 2019 and October 2020.
To replace the PROBO (product/ore/bulk/oil) combination carriers, the original CABU concept was developed by Torvald Klaveness in co-operation with Oshima Shipbuilding of Japan, which produced the six first-generation vessels of 72,500dwt between 2001 and 2007. A trio of second-generation CABU carriers of 80,500dwt, marrying increased revenue-earning volume with lower fuel consumption, was delivered by Ouhua Zhejiang Shipbuilding in 2016 and 2017.
The Klaveness combi fleet is utilised in dedicated trade patterns, with consecutive switching between dry and wet shipments, typically including the movement of tanker cargoes into dry bulk export hubs such as Australia and South America, hauling bulk goods on the return leg.
Caustic soda (sodium hydroxide) has ensured baseload contract business for the CABU combis. It is used to dissolve the aluminium compounds found in bauxite, separating them from the impurities. Other main commodities carried are salt, alumina, bauxite, ore, coal and grain, and liquids such as urea-ammonium nitrate(UAN) solution, applied as a fertiliser, and molasses.
PRINCIPAL PARTICULARS
Bulk/oil/chemical carrier Baru
| | |
| --- | --- |
| Length overall | 228.0m |
| Length bp | 224.8m |
| Breadth | 34.5m |
| Depth | 23.2m |
| Draught | 14.8m |
| Deadweight | 83,500t |
| Gross tonnage | 54,043t |
| Main engine | WinGD W6X62 |
| Class | DNV GL |
| Registry | Majuro, Marshall Islands |