The first ship to be built in Germany with eco-friendly methanol-fuelled drives has been ordered by the Federal German government from Fassmer Werft, reports Germany correspondent Tom Todd.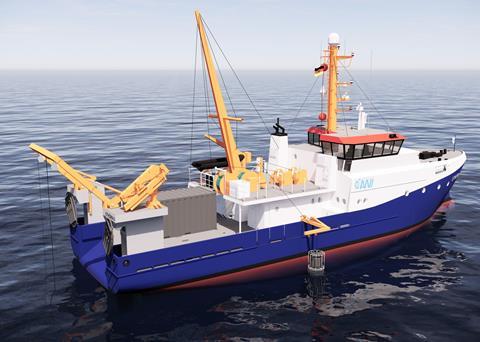 The Ministry of Education and Research (BMBF) has put up funding of €14.45 million for the new coastal research ship. To be named Uthörn II it will replace a currently 38 year old, 30.5m namesake and will serve, like its predecessor, with the Alfred Wegener Institute Helmhorst Centre for Polar and Marine Research (AWI) in Bremerhaven.
The AWI's Karsten Wurr said Fassmer and the AWI would jointly design and build the "particularly low-emission" Uthörn II. Talks on design are expected to begin at Fassmer "in the coming weeks" with the aim of having the ship in the water for testing of its scientific equipment as early as 2022 - the second half of that year according to AWI Director Antje Boetius.
BMBF State Secretary Michael Meister commented that with Uthörn II "Germany is getting a state-of- the-art and highly capable research ship for coastal and shelf seas research". Main operating area will be the North Sea with one regional focus the area around AWI's island station on Heligoland.
Fassmer has just built the 75m Atair - the world's first LNG public service wreck search and research ship. Construction of that ship was a big challenge and commenting now on the methanol task with Uthörn II, yard MD Harald Fassmer indicated nothing has changed.
"The implementation of new drive technologies in special shipbuilding requires extensive system expertise on the part of the shipyard", he said. He added "this applies to this new building in particular, as the relevant regulations are still being coordinated and the intended drive components do not yet have the necessary type approvals".
The 35.7m by 9m vessel will be propelled by two 200kW electric drives providing 10 knots. Two 300kW, 1500 rpm engines modified for methanol operation will power the electric drives. With a side height of 3.65m, the ship will draw 2.2m.
Fassmer refers to extensive scientific equipment on the new Uthörn with special winches, lifting devices, sensors and a modern laboratory facility with training opportunities. The AWI says the lifting devices will include crane jib attachments at the stern and on the sides for the deployment of scientific equipment.