Delegates who attended the technical visit on the third day of the Propulsion and Future Fuels conference were lucky enough to visit a fire-fighting vessel owned by Flotte Hamburg.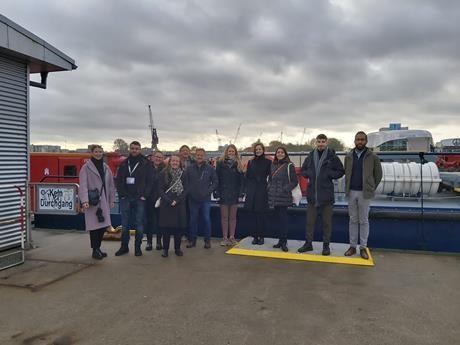 The 35.5m-long diesel-electric fire-fighting vessel has a draught of just 1.5 metres, and demonstrated its ability to lower its wheelhouse during the visit. This means that the vessel, and its sister vessel, are able to access a greater proportion of Hamburg's river and canal network than their predecessors, particularly in the older part of the harbour.
The vessels are also equipped with state-of-the-art fire-fighting equipment capable of combatting a range of different fires, using foam and water pumping systems. The vessels are equipped with two remotely operated monitors on an elevated platform along with a higher-capacity larger monitor. The vessel features a number of safety features to ensure its own safety, such as a water spray system around the vessel and a fire suppression system. The elevated platform can also be used for passenger evacuation.
The fire-fighting vessels were handed over to Flotte Hamburg in November 2021, and enhanced the department's ability to handle potential operations on modern larger container vessels.
The vessels are also interesting as they are equipped with an energy storage system (ESS) with a capacity of 315 kWh, which is capable of powering the vessel for up to 2 hours on pure electric power. The hybrid vessel recharges its batteries using shorepower connections around the area. The vessel's energy management system also allows the vessel to provide energy from the vessel's engines to other vessels, if the need arises.
The tour of the vessel included a visit to the vessel's battery room, as well as the engine room, where delegates could see the vessel's Caterpillar diesel C18 engines, which are equipped with selective catalytic reduction systems, along with particulate filters. The solution met the requirements of the vessels, although there had been some challenges in sourcing systems in the required 500kW power range.
Flotte Hamburg's management noted that the new vessels had contributed significantly to a fleet wide reduction in CO2 emissions, as well as sharp reductions in NOx and particulate emissions. NOx emissions have fallen by 23% between 2017 and 2021, while PM emissions have fallen by 41% over the same period (on a g/kWh basis).
The decision to operate vessels in Hamburg on a synthetic diesel, GTL (Gas to Liquid), also contributed to the improvement in environmental performance.