DNV, GTT, J.P Sauer, The Methanol Institute, TGE Marine and WinGD have all recognised the benefits of the Propulsion & Future Fuels Conference and have confirmed their sponsorship of the three-day conference. Book today to meet them and many other industry leaders.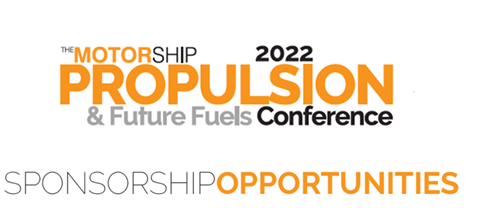 The Motorship's Propulsion and Future Fuels Conference provides an exceptional platform for your company to market itself through our varied sponsorship packages. It brings all the benefits of your brand being associated with premium content in a face-to-face thought leadership environment. The 2022 conference will provide senior executives with a meeting place to learn, discuss and share knowledge on the latest developments in:
· Batteries and Hybrid energy for big ships.
· Digitalization – Cyber security risks / Route Optimization / Digital tool Efficiency / Legality / Digital Twin.
· Multifuel engines.
· Ammonia – Implications on other machinery and technologies / Safety rules.
· Methanol – Implications on other machinery and technologies / Safety rules.
· eFuels - synthetic bunkering / Incoming taxes & levy's.
· Fuel Cells as a solution for generator sets or auxiliaries.
· Regulatory changes to the 2030/40 IMO targets.
· Regulatory drivers – what to do with the old vessel / How are new vessels funded?
· Carbon Levy Solutions
A range of options are available to suit any budget. The full selection can be viewed here. Benefits across all packages include a corporate branding and awareness package as standard, ensuring your brand gets visibility from day one. This includes but is not limited to:
· Your logo on all advertisements and marketing collateral
· Your logo on 30,000 programmes distributed globally
· Dedicated online profile and link to your website
· Online advertisement (size subject to package chosen)
· Brand exposure in the PFF 'preview' issue of The Motorship magazine, both in-print and online
· Promotion on PFF social media channels (Twitter, Facebook, LinkedIn).
For more information on how we can help promote your company at Propulsion & Future Fuels, contact the team on +44 1329 825335 or email conferences@propulsionconference.com.
Follow the event: @Motorship