Caterpillar Marine has confirmed that it will provide power solutions packages for four new commissioning service operation vessels (CSOV) and two new service operation vessels (SOV) under construction at two shipyards in northern Spain.
The series of four new Commissioning Service Operation Vessels (CSOVs) are being built at Astilleros Gondán while two new Service Operation Vessels (SOV) are to be built at Astilleros Balenciaga shipyard in Spain. The series of six vessels are being built for Edda Wind (a joint venture between Østensjø Rederi and Willhelmsen), and will be delivered in 2022-2024.
The order includes shipsets of 3 x Cat 3512E engines with a power output of 1,700ekW each. The variable speed generator sets will be integrated into the vessel's diesel-electric propulsion system, with a specially configured Cat control cabinet. Caterpillar Marine is also supplying a selective catalytic reduction (SCR) system with IMO III emissions approval.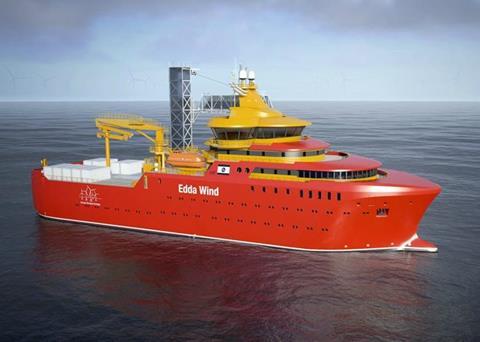 Edda Wind announced that the vessels, which also includes several other innovative energy saving features, were expected to reduce greenhouse gas emissions by at least 30% compared with previous generation offshore wind service vessels in its Oslo Stock Exchange prospectus, issued before the company listed on 26 November.
The newbuilds are also particularly noteworthy as they have been designed for the retrofit installation of zero-emission hydrogen fuel cell technology to enable zero-emission operations during their operational life.
The preparations for future zero emission propulsion systems are made possible by the Norwegian ENOVA funding program. The upgrades include complete tank systems for hydrogen storage, dedicated machinery space for fuel cells, battery hybrid system, innovative Voith propulsors, and an extensive package of energy saving measures for most auxiliary systems such as HVAC and pump systems.
"As part of the new and growing offshore wind segment, Caterpillar is actively working with its to ensure customers receive support during the energy transition. Our strong presence in the offshore industry demonstrates our commitment to deliver optimum power and energy efficient solutions to our global customers," says Global Workboat Segment Manager at Caterpillar Marine, Alexander Kohse.