ABB''s power systems have been chosen for the first self-elevating wind turbine installation vessel built in Japan.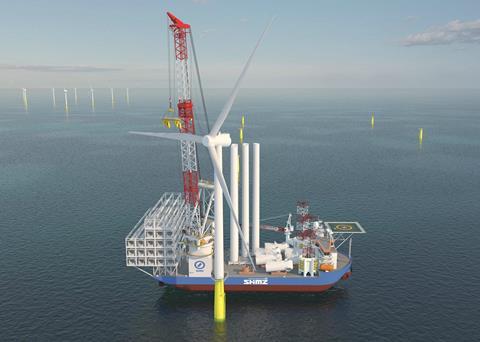 The 28,000 tonne jack-up ship – a purpose-built, self-elevating wind turbine installation vessel (WTIV) – will feature ABB's advanced power and control technologies. The vessel, on order from builder Japan Marine United, is due for delivery to Shimizu in 2022.
"ABB's extensive experience with closed-bus systems for dynamically positioned vessels and wind turbine installation vessels in particular had been a decisive factor for this project," said the Japan Marine United Corporation spokesperson. "We recognise that closed ring solutions improve operational flexibility and engine running efficiency, while increased protection against power loss is a vital safety advantage."

Using a 2,500 tonne crane capable of a maximum lift height of 158 metres, the 142m ship will be able to transport and install seven 8MW wind turbines in a single voyage and operate in waters ranging between 10 and 65 metres deep.
ABB's scope of supply also covers a closed ring configuration for the vessel's dynamic positioning operations, the delivery and system integration of generators, high voltage switchboard system, the variable speed drives and motors for main propulsion and bow thrusters, and the power and energy management system.