The Motorship Propulsion & Future Fuels Conference are pleased to announce Vincent Bernatets, CEO & Co-founder – Airseas and Daisuke Arai, Managing Executive Officer - K-LINE as the latest speakers to join the PFF Live WindPower and Windassisted Propulsion online session, due to take place May 18, 2021, 11-12 CEST.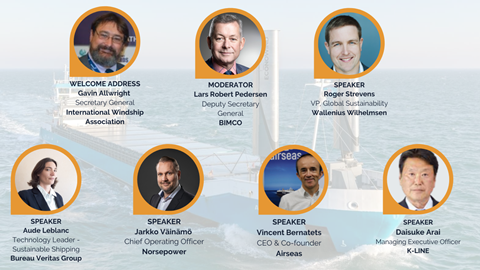 Learn from the two presenters about their Seawing Kite pilot project set to reduce fuel consumption by 20%, both from the manufacturers and operators perspective.
Founder of Airseas, Vincent has previously worked internationally as a development engineer in aeronautics, before becoming a manager on the development of the A380.
Vincent specialized in advanced automatics at Sup'Aéro (ISAE) and Stanford University. Today, he combines his three passions and competencies – engineering, sailing and the environment, to develop and grow Airseas and its revolutionary Wind-Assisted-Propulsion-System - Seawing.
Daisuke Arai, Managing Executive Officer, K-LINE, the Japanese shipping company with 442 ships in its fleet, will also join Vincent, discussing the joint project between both K-LINE and Airseas.
Vincent added 'Wind propulsion is now recognized by industry leaders as paving the way to the IMO 2030 objectives and Zero Emission Shipping by enabling new fuels to be introduced earlier for deep sea shipping.'
Vincent and Daisuke join the high profile panel of PFF Live, including technical experts spanning across operators, manufacturers and classification societies, who will be discussing their current wind projects and the technical requirements of integrating these systems aboard vessels.
WindPower and Windassisted Propulsion had been considered a slightly eccentric option, but has now gained its place as a true contender and contributor in achieving the IMO 2050 goal for decarbonisation of the shipping sector.
Register now to join and learn from our live panel of industry experts how your business could benefit from this solution.
Full speaker line up includes:
Gavin Allwright, Secretary General, International Windship Association, who will deliver the Welcome Address and Lars Robert Pedersen, Deputy Secretary General, BIMCO who will be the session's moderator. With speakers including: Aude Leblanc, Technology leader - Sustainable shipping, Bureau Veritas Group, Roger Strevens VP, Global Sustainability, Wallenius Wilhelmsen, Jarkko Väinämö, Chief Operating Officer, Norsepower, Vincent Bernatets, CEO & co-founder - Airseas and Daisuke Arai, Managing Executive Officer, K-LINE.
Learn how this technology can help your business to meet its decarbonisation objectives both for newbuilds and retrofit solutions.
Join our virtual panel of top industry experts on May 18, 2021, 11-12 CEST