ABS has published a Guide for Methanol and Ethanol Fueled Vessels setting out classification criteria for associated equipment and systems.
The Guide provides functional requirements for ship arrangements, ship systems, bunkering, fuel containment, supply and power generation equipment. The aim is to ensure that the safety, reliability and dependability of the systems is equivalent to that achieved with new and comparable conventional oil-fuelled main and auxiliary machinery.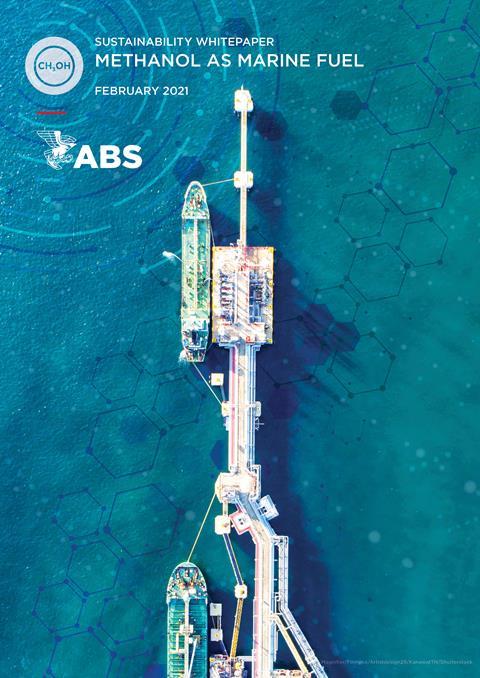 In 2020, the Maritime Safety Committee of the IMO adopted interim guidelines on the use of methanol as a marine fuel (MSC.1621), making ethyl and methyl alcohols options for shipowners and operators, and ABS is involved in multiple methanol-fuelled projects covering container vessels, bulk carriers, and tankers.
In December 2021, ABS granted Approval in Principle for a methanol fuel-ready medium range tanker design by K Shipbuilding. In September 2021, the classification society announced that a series of eight large container vessels capable of being operated on carbon-neutral methanol ordered by Maersk are to be built to ABS Class.
ABS has also published detailed guidance in a white paper on methanol as marine fuel, evaluating the challenges in design and operation of methanol-fuelled vessels.
Determining which new fuel option is best can be challenging, says ABS. Methanol stands out as infrastructure already exists since methanol is shipped globally as a commodity. Additionally, methanol offers carbon-neutral potential when produced using biomass and biogas from landfills and wastewater treatment as feedstock.
The Guide notes: "The increasing experience with methanol fuelled commercial vessels, the relatively simple fuel arrangements for storage and distribution of methanol or ethanol, and the ability to produce from renewable and sustainable sources that can meet the IMO GHG reduction goals, is stimulating increased interest in these alcohol-based fuels."
The Guide for Methanol and Ethanol Fueled Vessels is available for download here.