Air Liquide (AL) has signed a long-term agreement to supply green hydrogen to an inland container vessel operated by Future Proof Shipping (FPS) in the Netherlands. The deal has been hailed as a milestone on the path to the decarbonisation of inland waterways.
The FPS Maas, which transports containers between the Netherlands and Belgium, will run on the hydrogen through multi-modal storage specially designed for inland barges, enabling the vessel to reduce CO2 emissions by nearly 2,000 tonnes per year. AL believes the solution can be easily replicated by other ships and non-marine transport.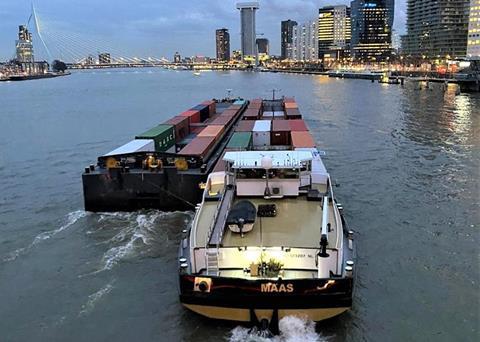 "This project will help lower the environmental footprint of inland transport on waterways, a sector that represents 3.4 per cent of the CO2 emissions in the Netherlands," said Diederick Luijten, vice president hydrogen energy Northern Europe & CIS countries - Air Liquide.
The hydrogen will be used in a PEM fuel cell, installed in the cargo space, to produce enough electricity to deliver around 825 kW for ship propulsion and auxiliary power.
"Partnering with Air Liquide, a company with hydrogen at its core, is solving a giant piece of the zero-emissions logistics puzzle for us," said Richard Klatten, chief executive of Future Proof Shipping. "Our vessels need to be fuelled with renewable energy and right now carbon-free hydrogen, supplied by Air Liquide, is the smartest and greenest fuel choice available to us," he added.
AL and FPS are partners in the RH2INE (Rhine Hydrogen Integration Network of Excellence) programme, which aims to decarbonise inland shipping on the Rhine.