A.P. Møller-Maersk has revealed more details about the design of its new series of 16,000-teu methanol-fuelled container vessels. While the design's enhanced unloading and loading speeds will attract attention, and will help to achieve a headline reduction of fuel consumed per container by 20% compared with peers, the announcement clarified that the vessels will be capable of completing a round trip between Asia and Europe while operating on methanol.
The design of the 350m-long, 53.5m-wide vessel has been altered in order to maximise the vessel's cargo capacity. The crew accommodation and bridge has been located at the bow, while the funnel has been located in the aft, on one side of the vessel. In addition to increasing capacity, the changes will also improve efficiency when at the port.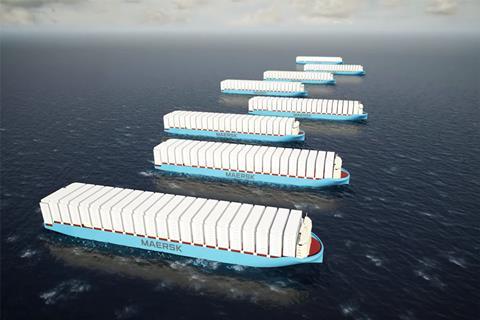 The design project has taken almost five years, and "crossed uncharted naval design territory". The naval design project had to ensure that the vessel's hull strength remained adequate, as the accommodation block normally working as a hull "stiffener" when placed further backwards. Other challenges included ensuring adequate crew comfort, with the accommodation placed at a more exposed location. The changes also required the development of new arrangements for lifeboats and navigational lights, as well as new cameras to support the captain's view when navigating.
The design refinements will allow the design to integrate a 16,000cbm fuel tank within its hull envelope, while maintaining a 16,000-teu capacity. Crucially, the vessel's 16,000cbm capacity fuel tank will allow the container vessels to complete an entire round-trip between Asia and Europe operating on green methanol. The dual-fuel engines will also be capable of operating on VLSFO.
If the entire series of eight vessels were to operate on green methanol, the series would lower A.P. Møller-Maersk's CO2 emissions by around one million tonnes per year.
The Motorship previously reported that MAN Energy Solutions, Hyundai's HiMSEN and Alfa Laval were collaborating in the development of main movers, auxiliary engines and the fuel supply system for the vessels.