The CBH Group has partnered with dry bulk operator Oldendorff Carriers to conduct the first biofuel trial on a grain vessel exporting from Australia.
CBH Marketing and Trading is shipping 30,000 tonnes of sustainably certified malting barley from the Albany Grain Terminal to Vietnam on the Edwine Oldendorff. The vessel is bunkered with a biofuel blend supplied by BP. It is estimated to produce about 15 percent fewer GHG emissions than conventional fossil fuels. The trial will provide information on how the vessel engine responds to biofuel, its speed and efficiency, and measure the emissions it produces.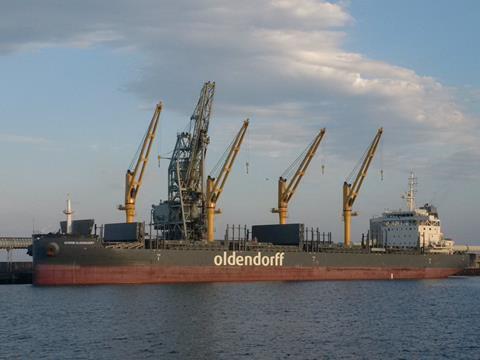 The malting barley, which is accredited as sustainable under the International Sustainability and Carbon Certification program, is set for Vietnamese malting company Intermalt. The company services a number of brewing customers, the largest being Heineken, which has set a target of a carbon neutral value chain by 2040.
The CBH Group is Australia's largest co-operative in the Australian grain industry, with operations extending along the value chain from fertiliser to grain storage, handling, transport, marketing and processing. It is owned and controlled by approximately 3,700 Western Australian grain growing businesses. In 2020-21, CBH sold 1.2 million tonnes of sustainably certified grain and reduced Scope 1 and 2 carbon emissions on a per tonne basis by 38 percent from the previous year.
In April 2021, Oldendorff Carriers, BHP, and GoodFuels, and with the support of the Maritime and Port Authority of Singapore (MPA), successfully conducted the first marine biofuel trial involving an ocean-going vessel bunkered in Singapore. The eco-Kamsarmax Kira Oldendorff, a 2020-built 81,290dwt dry bulk carrier, was bunkered with drop-in advanced biofuel to be blended with conventional fossil fuels. Minor modifications were carried out to burn the biofuel blend efficiently, and monitoring instruments were installed to capture the trial data as accurately as possible.