Korean Register (KR) has issued two separate Approvals in Principle (AiP) to Korea Shipbuilding & Offshore Engineering (KSOE), Hyundai Heavy Industries (HHI) and Hyundai Mipo Dockyard (HMD) for their designs of an ammonia-fuelled ammonia carrier and an ammonia-fuelled bunker vessel.
A ceremony was held at KR's Seoul branch office on 15 December to mark the achievement. One of the ship designs is for a 60,000m3 ammonia-fuelled ammonia carrier and the other is a 38,000m3 ammonia carrier/bunkering ship. The 60,000m3 ammonia-fuelled carrier design is currently the largest ship that can be docked at Korean ports.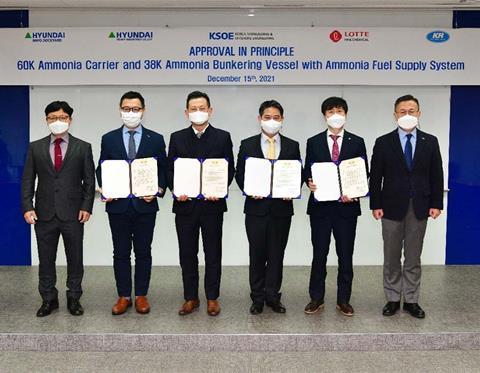 The ships have been developed to operate on ammonia as a fuel, and will feature dual-fuel ammonia engines. The press release noted that the vessels will not emit carbon during operations.
The AiP is the first result from the 'Green Ammonia Marine Transport and Bunkering Consortium' which was launched in May 2021. The Korean consortium brings together KR, a leading shipyard (KSOE) as well as Hyundai Merchant Marine (HMM), POSCO, Lotte Global Logistics and Korean chemical trading specialist, Lotte Fine Chemical, which aimed to provide ammonia fuel supply chain expertise.
The development of the ammonia-fuelled vessel designs is the first deliverable from the consortium's May MoU, under which each member pledged to contribute to the development of an end-to-end supply chain for ammonia bunkering, including production, storage, and transportation of green ammonia.
POSCO will focus on the production of 'green' ammonia outside Korea, while Lotte Fine Chemical will transport the fuel and perform bunkering operations. HMM is expected to contribute a shipowner's perspective during the operation of the vessel. HMM has identified ammonia as one of alternative energy sources that could help it achieve carbon neutrality by 2050 for its entire fleet, alongside biofuels, LNG, and hydrogen.
Kim Daeheon, the Executive Vice President of KR's R&D division, noted: "This AIP is extremely significant considering the industry's focus on developing and utilizing eco-friendly fuels such as green ammonia to achieve decarbonization. We have prepared a solid technical base for ammonia-fueled ships with this certification and are getting closer to the goal to commercialise them in 2024."
KR awarded an AiP for an ammonia-fuelled bunker vessel to a design developed by Navig8 and KmsEmec earlier this year.