Italian classification society RINA has awarded an approval in principle (AiP) for an ammonia fuel supply system to CSSC Power. The award follows closely after RINA awarded an AiP to Zhangjiagang Furui Heavy Equipment Co. (FHRE) for an ammonia containment system for fuel applications.
The award of the AiP to CSSC Power was marked by a ceremony held on 29 December. The ceremony, which was attended by Luigi Mattera, the Director of RINA Greater China, who awarded an AIP certificate to CSSC Power for an NH3 fuel supply system, the first such approval awarded for a solution developed by a Chinese original equipment manufacturer (OEM). The ceremony also marked the first delivery of an LNG fuel gas supply system supplied by the OEM.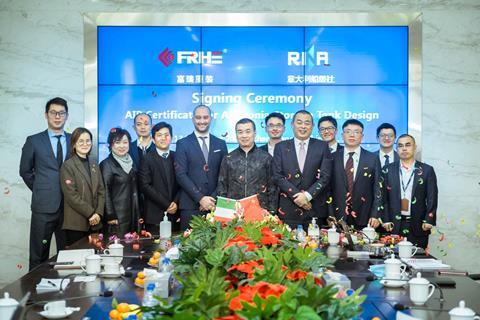 The second AiP was awarded to FHRE on 13 December. The award was the first outcome following the agreement of a cooperation agreement between the classification society and FHRE in July 2021, and represented the first award of AiP for an NH3 containment system for the Chinese supplier.
Mr Mattera paid tribute to the cooperation between RINA and FHRE, which had helped the completion of the AiP in a compressed timescale with high standards.