On 27 December, Sumitomo Corporation announced a series of initiatives connected with the development of a supply chain for ammonia as a marine fuel. In addition to the joint development and launch of an ammonia-fuelled bulker with Oshima Shipbuilding by 2025, Sumitomo also announced plans to work with Keppel O&M towards beginning ammonia bunkering operations in Singapore by the mid-2020s.
The most eyecatching announcement was a commitment to jointly develop and launch an ammonia-fuelled bulk carrier with Oshima Shipbuilding by 2025. The two companies have collaborated on the development of bulkers since 1973.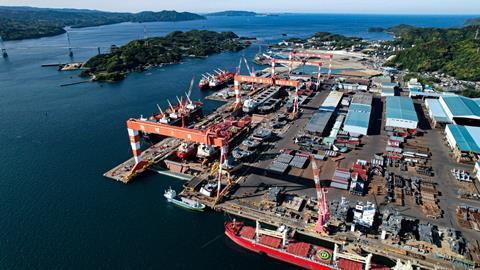 The 80,000dwt ammonia-fuelled bulker will be owned and operated by Sumitomo, with the intention of "helping reduce greenhouse gas emissions from users of the ship's transportation services across their supply chains". The Motorship notes that Sumitomo Corp announced plans to reduce GHG emissions from its business by 50% by 2035 in July 2021.
The announcement also noted that Sumitomo established a cross-cutting internal project team in July 2021 focusing on the use of ammonia, along with methanol and biofuels, to examine upstream and downstream effects across the diversified trading house's energy trading, coal trading, iron ore and steel products, and inorganic chemicals businesses. The project team also included representatives from the Hydrogen Business and Ship & Marine Project departments.
In a second announcement, Sumitomo revealed that it had signed a Memorandum of Understanding (MOU) with Keppel O&M to explore the feasibility and implementation of various ammonia fuel applications in Singapore. The two companies confirmed their commitment to work towards introducing ammonia bunkering in Singapore, with the aim of beginning commercial operations by the mid-2020s.
The latter development of an ammonia bunkering vessel in coordination with the relevant authorities, expediting the implementation of ammonia bunkering in Singapore and contributing to the realization of zero carbon shipping.
Tan Leong Peng, Managing Director (New Builds), Keppel O&M, said, "We are pleased to extend our collaboration with Sumitomo Corporation which will deepen Keppel O&M's decarbonisation efforts. Keppel O&M is working with its partners and leveraging its engineering expertise, bunkering experience, and new build capabilities to develop the ammonia bunkering ecosystem for the marine industry."
TECHNICAL PARTICULARS - Dual-fuel bulk carrier
| | |
| --- | --- |
| | |
| Length overall | 229m |
| Beam | 32.26m |
| Depth | 19.98m |
| Draught, design | 12.2m |
| Draught, fully laden | 14.47m |
| Deadweight | 80,000t - 81,000t |
| Speed | 14.3kts |