The Motorship Propulsion & Future Fuels Conference is pleased to announce the continued support and chairmanship of two of the sectors most prominent industry associations; BIMCO and the German Shipowner Association - VDR.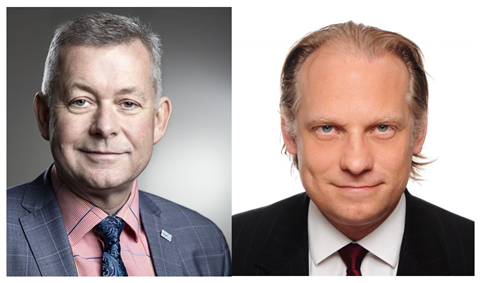 Deputy Secretary General of BIMCO, Lars Robert Pedersen, will be joining us as chairman at this year's conference. He is responsible for BIMCO's technical and operational activities involving all technical and nautical issues within the area of marine environment, ship safety and maritime security.
Pedersen is furthermore responsible BIMCO's activity related to regulatory developments relevant for shipping at international, regional and national levels. He joined BIMCO in early 2010 after a long career at A.P. Moller-Maersk where for more than 25 years he was involved in regulatory affairs at IMO level, technical management of the Maersk fleet of container ships, and prior to that as seagoing engineer officer.
Martin Kroeger, Managing Director of the German Shipowners' Association, VDR, since 2012 is chairing day two of Propulsion & future Fuels 2020. Kroeger is a specialist in international shipping policy and related government affairs management and has worked in the international maritime community for over a decade, serving as a leading industry representative to many international and intergovernmental organisations.
Martin also holds the position of Managing Director of the German Shipping Foundation, a facility founded to co-sponsor training and education of seafarers in Germany, and is delegated member to several European and international maritime related advisory committees and expert groups. As alternate member of the Board of Directors of the European Community Shipowners Association - ECSA in Brussels and acting Chairman of the ECSA Safety and Environmental Committee, he actively engages in EU policy making for the maritime sector.
Both of these associations boast membership representing more than 60% of global tonnage, with VDR headquartered in Hamburg, representing a fleet of 2,324 ships totalling a combined gross tonnage of 57.5 million.
We look forward to welcoming both Martin Kroeger and Lars Robert Pedersen back to Propulsion & Future Fuels this November. For further details on any aspect of the conference, please contact the Events team at conferences@propulsionconference.com or call +44 1329 825335. The 20% early bird discount is available for a limited time. Simply enter code early at the checkout.