African shipyard, Elgin Brown & Hamer Namibia (EBHN), has completed a repair job on its widest and heaviest vessel yet, an oil product tanker with a collision-damaged bulbous bow.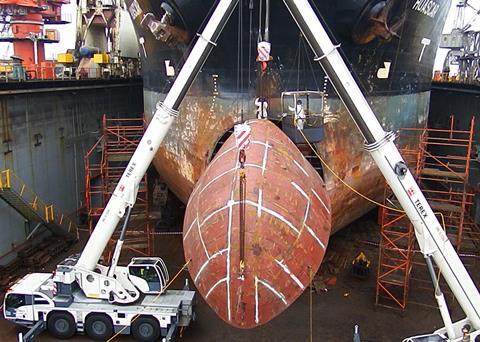 The project involved devising an innovative, fast and cost-effective repair strategy to minimise the tanker's time out of service.
When a vessel such as the 176m length, 25,060 tonne Huascar needs to be repaired, the time taken by the shipyard to complete the project is critical, as every day that it is out of commission could result in lost revenue.
"Damage was more extensive than we had initially expected," said Willie Esterhuyse, commercial and marketing manager, EBH Namibia.
"The challenge we faced was that the bow section of the Huascar was constructed of double curved plating. To remove this first and then repair it would have been very time-consuming and therefore could have cost the owners a significant sum in lost charter fees."
The EBHN project team therefore devised a 'total solution' repair strategy over a period of 20 days, which not only saved the vessel owner 10% in the cost of the repairs, but also saved in terms of operational time.
EBHN's repair strategy involved pre-fabricating the bulbous bow completely before the vessel was dry-docked.
With the new section complete and ready for fitting, the Huascar could then be docked at EBHN's Namdock 3 Panamax-sized dock and the damaged bow swopped out for the newly fabricated bow.
CNC cutting, assembly, welding and quality control were all done in-house at the EBHN fabrication facility.
The only aspect of the project not able to be completed in-house was the fabrication of the double curved plating, which was outsourced and freighted back to Namibia.