The Motorship Propulsion & Future Fuels Conference are pleased to announce Aude Leblanc, Technology Leader - Sustainable shipping, Bureau Veritas Group as the latest speaker to join the PFF Live WindPower and Windassisted Propulsion online session, due to take place May 18, 2021, 11-12 CEST.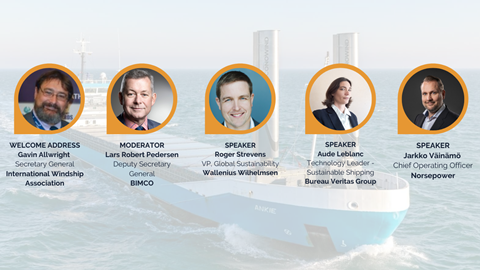 Beginning her career at Bureau Veritas in 2009 as an engineer in ship propulsion, Aude's main role, now as Technology Leader for Sustainable shipping, is to provide technology leadership in the development of sustainable shipping Rules and Services.
WindPower and Windassisted Propulsion has been considered a slightly eccentric option, but has now gained its place as a true contender and contributor in achieving the IMO 2050 goal for decarbonisation of the shipping sector.
Aude added "Power of the wind, even if it is not always available, can make a significant contribution to GHG free ship propulsion and ship design. This is an incredibly exciting time for the industry as we revive an ancient, powerful and endlessly renewable source of energy – but with all the benefits of modern technology and materials."
Bureau Veritas has released new-generation classification rules for wind propulsion systems to help support and drive the development of zero carbon propulsion options for modern ships.
Aude is responsible for BV's development of the rules for Wind Propulsion Systems (NR206) and sits on various marine renewable committees. Coupled with a Master Engineer Degree in Mechanical Engineering, Aude will give invaluable contribution to this session.
Register now to join and learn from our live panel of industry experts how your business could benefit from this solution.
Full speaker line up includes:
Gavin Allwright, Secretary General, International Windship Association, who will deliver the Welcome Address and Lars Robert Pedersen, Deputy Secretary General, BIMCO who will be the session's moderator. With speakers including: Aude Leblanc, Technology leader - Sustainable shipping, Bureau Veritas Group, Roger Strevens VP, Global Sustainability, Wallenius Wilhelmsen and Jarkko Väinämö, Chief Operating Officer, Norsepower
Learn how this technology can help your business to meet its decarbonisation objectives both for newbuilds and retrofit solutions.
Join our virtual panel of top industry experts on May 18, 2021, 11-12 CEST,