Propulsion & Future Fuels 2018 culminated with a trip to a battery hybrid ferry operated by Scandlines.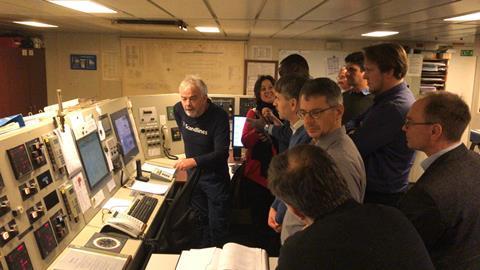 Participants of the 40th Motorship Conference, Propulsion & Future Fuels, were invited on board the 'Deutschland' for a trip on the ferry's route between Putrgarden and Rodby. During the tour of the ferry participants were able to hear from the Senior Vice President of Route Management & Operations, Michael Guldmann Petersen, who provided insight into Scandlines' green operations to date and touched upon future plans for zero emissions vessels running on this route.
After enjoying a lunch generously provided by Scandlines, delegates were able to tour the engine room where they saw the batteries in operation and gained an understanding of power use throughout the ferry's journey.
A second tour of the bridge was also offered, where the Captain was able to explain to guests how they monitor the battery usage throughout 'Deutschland's' crossing.
If you missed this year's conference, the download is now available online, in addition to a selection of videos and images from over 40 speakers.
If you are interested in attending Propulsion & Future Fuels 2019 and would like more information about the Conference, please contact the events team on +441329 825335 or email conferences@propulsionconference.com.