Havyard Shipyard in Leirvik, Sogn is to build five electric ferries for ferry operator Fjord1. The five ferries are expected to be delivered in 2019, with all five to be fully operational on four additional routes in Norway by 1 January 2020.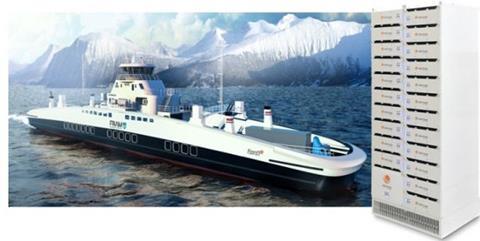 The five latest all-electric ferries are of Havyard 932 design. Four of the ferries are 67 meters in length and hold 50 cars and 199 foot passengers, while a fifth will be slightly larger, with a capacity for 80 cars and 399 passengers.
Norwegian Electric Systems (NES), a total system integrator of electric systems for the global marine market, has selected Corvus Energy to supply lithium ion battery-based energy storage systems (ESS) for the five new ferries. Each ferry will be equipped with air-cooled Corvus Orca Energy ESS that will supply electrical power to the ferry's NES all-electric power and propulsion system.
The leading manufacturer of energy storage systems for maritime applications, Corvus Energy provides battery power to more ferries than all other providers of energy storage systems combined. Beginning with the first zero-emission ferry, Ampere, Corvus Energy's ESSs have now been selected for over 40 similarly sized car ferries globally.
To date, Corvus Energy has supplied ESSs on eight Fjord1 electric ferries operating on four Norwegian coastal routes.