Did you miss Propulsion & Future Fuels last week? The second day of the The Motorship Propulsion and Future Fuels Conference 2019 included the Motorship Award, dedicated sessions on LNG and ammonia, and parallel sessions on electrification within the industry and alternative fuels.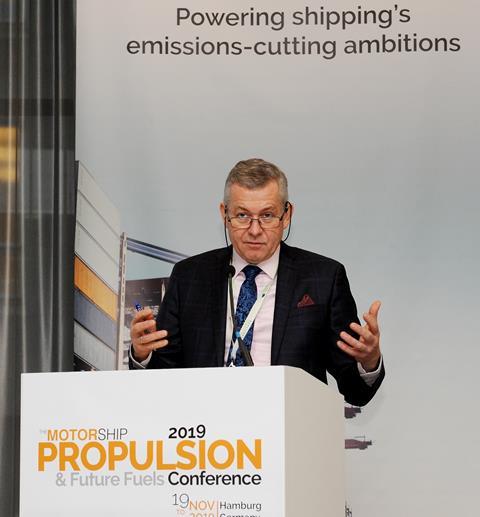 Chairman, Lars Robert Pedersen, Deputy Secretary General, BIMCO provided a recap of the first day of the conference and introduced the innovative project showcase, which featured four different projects. He added "We are dealing with some game-changing issues that will have a deep impact on shipping. It is clear that the shift ahead of us will require a major change of mindset in an industry that is not keen on risk and prefers proven, off-the-shelf tools."
The Motorship Editor's award rewards projects that offer results across the industry. The four finalists presented their projects, with the overall winner decided by delegate vote.
Firstly, Grimaldi presented details of its Grimaldi Green 5th Generation design, explaining how it had collaborated in the design of an innovative series of ro-ro vessels that feature energy storage, reducing installed power and building in innovative technologies in power management and propulsion design.
Hurtigruten shared the details of its retrofit project to propel its coastal cruise vessels with liquefied biogas derived from fish waste, offering dramatic reductions in GHG emissions.
WE Tech's collaboration with Wasaline on a new hybrid RoPax that will be capable of operating in Zero Emission Sailing Mode when manoeuvring in port also represents a significant step forward in reducing emissions from port.
The 2019 award winner was presented to UK-based propulsion specialist, Stone Marine Propulsion. Adrian Miles, Managing Director of Stone Marine Propulsion presented the project and outlined the operational results of a new ducted propeller concept, the Gate Rudder. The project included key partners NS Evolution, Kuribayashi Steam Co, Kamome Propeller, Yamanaka Shipyard, Strathclyde University and Tokyo Keiki.
One of the highlights of the conference was a session focused on LNG that included Rolf Stiefel of WinGD, Julien Bec of GTT and Antony Vourdachas of ABS. Gunnar Helmen of Gasum and Christian Hoepfner of Wessels Marine provided a useful perspective from ship owners active in the LNG bunker space.
During a lively discussion moderated by Christian Denso of the German Shipowners' Association (VDR): "We are dealing with some game-changing issues that will have a deep impact on shipping. It is clear that the shift ahead of us will require a major change of mindset in an industry that is not keen on risk and prefers proven, off-the-shelf tools."
After lunch, Kjeld Aabo, Director of New Technologies at MAN Energy Solutions discussed the technical challenges involved in adjusting MAN B&W dual fuel engines to operate on ammonia, while noting that "green" ammonia, produced from renewable energy sources, could represent a CO2 neutral energy vector.
Christos Chryssakis, Business Development Manager at DNV GL noted that a number of regulatory obstacles need to be overcome before ammonia can be adopted as a fuel. He noted that adopting LPG as a fuel might be a halfway house before subsequently shifting to ammonia, given similarities in containment vessel and engine design requirements between the two fuels.
The final session of the day saw the conference divide between an alternative fuels stream, and an electrification stream. The first stream included presentations on methanol, ethane and wind propulsion from Eelco Dekker of the Methanol Institute, Mark Penfold of ABS, and Gavin Allwright of the IWSA.
Meanwhile, Dino Imhof of ABB Turbo Systems discussed the cost and efficiency advantages of internal combustion (IC) engines in the hydrogen age. He stressed the importance of developing net-zero and zero carbon emission technologies for the deep-sea market, but noted that IC engines will remain the prime mover in the marine industry. He discounted first generation biofuels, and suggested that ammonia was currently the most likely looking hydrogen-based energy vector.
Naeem Javaid, Global Operations Manager FOBAS at Lloyd's Register provided a highly compressed overview of the regulatory and economic advantages of various alternative fuel solutions. He noted that R&D, pilot projects and prototypes are critical to developing our understanding of alternative fuels, given their complexity and our incomplete understanding of them.
The second stream included Daniel Chatterjee of MTU discuss battery hybrid systems, Jan-Erik Rasanen of Foreship and Claas Rostock, Head of Department Safety and Systems Engineering at DNV GL, discuss hybridisation.
If you missed this year's conference, the papers and presentations from our expert speakers will be available to purchase for non-delegates from the conference website here. Those who attended this year will be sent a link to access the download at the end of the week.
The Motorship Propulsion and Future Fuels Conference brings together ship owners, ship operators and industry leaders to discuss the challenge of decarbonisation and strategies to meet existing and future IMO targets. We will be returning to Hamburg from 17-19 November 2020. If you are interested in speaking, sponsoring or attending contact the team on +44 1329 825335 or email conferences@propulsionconference.com.