A packed day of presentations and panel discussions was concluded with the conference round-up and close by chairman, Reinhard Lüken, which was followed by with a drinks reception sponsored by WinGD and a conference dinner sponsored by Wartsila.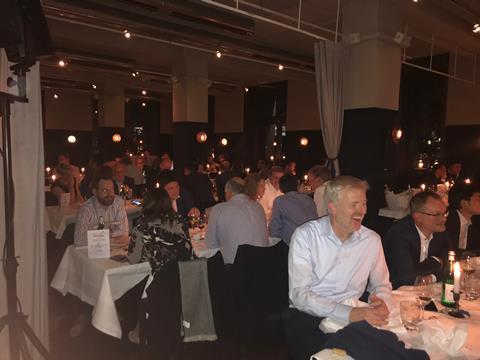 Propulsion & Future Fuels featured lively discussions throughout the first day, with many Q&A sessions benefiting from questions via the conference app as well as live audience participation.
A drinks reception, sponsored by WinGD, gave delegates further opportunity to continue their discussions of the day's presentations outside the conference room, as well as discussing the hotly anticipated first and second instalments of The Motorship Award. Shortlisted projects came from Rolls-Royce Marine and the Norwegian Coastal Administration Shipping Company, and TecnoVeritas.
Delegates caught up on the day's proceedings in a relaxed environment, whilst enjoying light refreshments with new contacts.
This year's conference dinner sponsored by Wartsila took place at "La Vela", the top address right on the Elbe for lovers of stylish ambience, Mediterranean flair and culinary delights. Set with the backdrop of the Port of Hamburg, delegates enjoyed a three-course meal, their choice of beer and wine and a view over the river. They also heard from the dinner sponsor, Wartsila, who provided the welcome for this year's celebrations.
Both the conference dinner and pre-dinner drinks reception provide a perfect place for attendees to discuss the presentations they've seen during the day as well as the challenges facing the industry and the future opportunities.
For live coverage of the event, follow @TheMotorship.