A certified passenger vessel using dual fuel combustion engines that burn diesel and hydrogen is believed to be the world's first.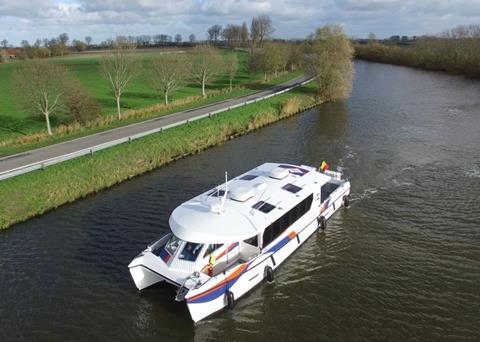 CMB's 14m long catamaran Hydroville is a pilot project to test hydrogen technology for large commercial sea going vessels. It uses two dual fuel combustion engines (H2ICED) with a total capacity of 441Kw.
CMB stated: "If we want to build green ships or aircraft at present, we will need to focus on biofuel or hydrogen. The first experiment on the table in commercial (freight) shipping is to equip a CMB container ship with a hydrogen-powered auxiliary engine."
No CO2
It added that it opted for combustion engines because batteries or fuel cells are less suitable for heavy transport. It chose hydrogen because no CO2, atmospheric particulate matter or sulphur oxides are released during combustion.
Hydroville, which received its Lloyd's Register certification in November, will use 12 hydrogen tanks (205 litres at 200 bars) and two diesel tanks (2 x 265 litres) as ignition fuel and backup fuel.
The Port of Antwerp-based vessel will also operate as a passenger shuttle; commuting daily between Kruibeke and Antwerp to provide CMB employees with efficient, environmentally-friendly transport.
Demo vessel
It will additionally function as a base for demonstrating the use of hydrogen in shipping, and will be sent out to attend events all around Europe in this context.
Experts gathered at last month's Gas Fuelled Ships conference organised by The Motorship discussed the potential of hydrogen as a zero-emissions fuel.
The consensus among technology providers was that while hydrogen may be useful on short-sea routes, the low density of the fuel - and therefore the size of tanks needed to store sufficient bunkers - would make it unwieldy for deep sea-going cargo vessels.
See the January issue of The Motorship for more details.