Wärtsilä has completed the installation and commissioning of a hybrid power system onboard a 59,000dwt bulk carrier. The installation on the M/V Paolo Topic includes a PV solar energy solution, which will make it one of the most technologically advanced bulk carriers in the global fleet.
The vessel is operated by Monaco-based ship operator Marfin Management, while the installation project also included Italian photovoltaic panel specialist Solbian.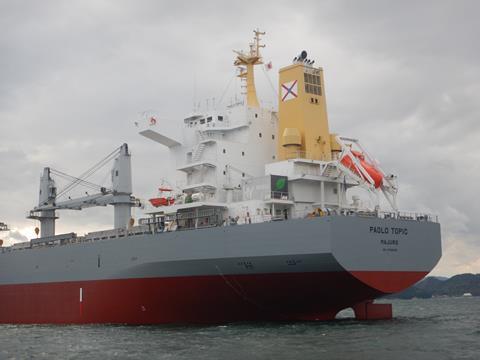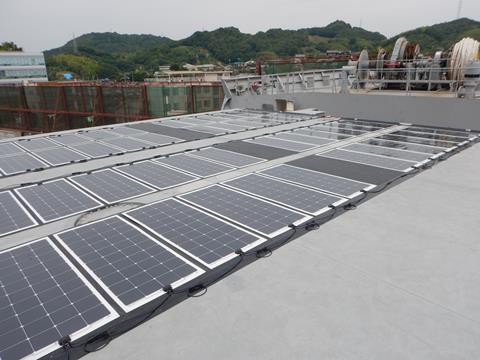 The installation was based on Wärtsilä HY Module, which includes an energy storage system and a dedicated energy management system that will have overall control of the engines, batteries and power distribution. The containerised solution has been placed on the ship's deck to save space and has been installed without the need for dry-docking.
The project includes a first example in the marine industry of the installation of solar panels on the weather deck. While the fuel saving offered by the PV solution was not specified, the solution is expected to achieve significant reductions in fuel consumption and maintenance needs. The Motorship previously noted that energy demand from the self-unloader's deck machinery peaks during loading and discharge operations.
In addition to offering cleaner, safer, and more efficient operations, the solution is also expected to improve the vessel's Energy Efficiency Existing Ship (EEXI) and Carbon Intensity Indicator (CII) index ratings.
"This is an extremely exciting development that will lead the way to a more sustainable future. We will be able to provide our customers and partners with the most advanced vessel performance and environmental quality, and it is without compromising operational effectiveness or flexibility. We would like to thank all our partners who worked on the project for this highly innovative and effective solution," says Alex Albertini, CEO Marfin Management.
"This installation represents a truly significant breakthrough in enabling the bulker fleet to increase both its economic competitiveness and environmental performance. The decarbonisation of shipping is a major priority for stakeholders throughout the maritime sector, and this unique solution helps us take a long step towards reaching this goal," says Giulio Tirelli, Director, Business Development, Wärtsilä Marine Power.