Norwegian operator Klaveness Combination Carriers (KCC) has signed an agreement with Becker-Marine Systems to install the Becker-Mewis Duct across its fleet following a successful trial aboard one of its CABU (caustic soda/bulk carrier) vessels
The 80,500dwt second-generation CABU carrier MV Baffin is KCC's second vessel to be equipped with the hydrodynamic efficiency device, during her ongoing dry dock. In 2022, the hull appendix will be installed on a further four KCC vessels during planned dry-dockings.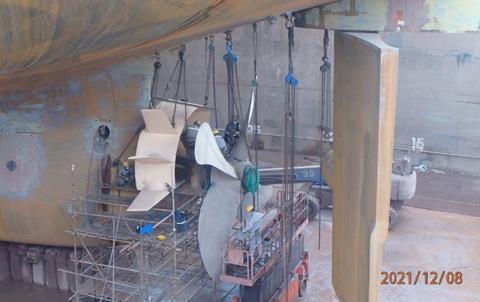 The ship operator has taken the decision in response to positive operational feedback from a first pilot installation aboard the MV Banastar, one of the original CABU concept vessels developed by Torvald Klaveness in co-operation with Oshima Shipbuilding of Japan, as well as model tank studies and CFD calculations.
The data has provided confidence that the tailored hull appendix will contribute to KCC's targets of further reducing CO2 emissions and fuel cost savings. KCC expects the system will improve the fuel efficiency of vessels by an average of 5%, which will be equivalent to emissions savings of approximately 800 tonnes of CO2 per ship, per year.
The tailored hull appendix is designed to improve the hydrodynamics of the flow into the ship's propeller, thereby increasing propulsion efficiency and reducing fuel consumption at sea.