Two new Ulstein PX121 platform supply vessels built at Shanghai Waigaoqiao Shipbuilding Co (SWS) in China have been delivered to owners, Sinoocean.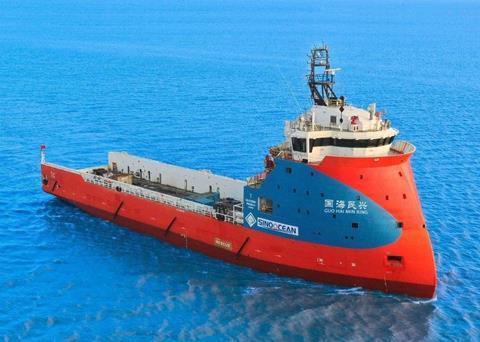 The Guo Hai Min Xing and the Guo Hai Min Sheng completed sea trials and were delivered on 8 May 2020. A further two vessels are scheduled and all four will be operated by China Oilfield Services Ltd with whom SWS has a long-term charter.
The 89m Ulstein PX121 is a flexible platform supply vessel design featuring the X-BOW hull line design for smoother motions in head seas. In total, 30 vessels of this design have so far been contracted.
A platform supply vessel of this design has a competitive combination of fuel-efficiency and cargo capacities/deadweight. This translates to a performance level that is usually expected from larger PSVs, but at a medium-sized PSV cost