Danish Shipping (Danske Rederier) has launched a new three-year strategy titled Toward Zero.
The organisation of over 90 shipowners and offshore companies states that it will work even harder to overcome the regulatory financial and political barriers that stand in the way of global, climate-neutral shipping. Danish Shipping will push the IMO for more ambitious climate regulations, targets that will be based on science and in line with the Paris Agreement.
The organisation has set the ambition of Danish shipping to be climate neutral by 2050 without use of compensation. By 2030, at least 5% of the Danish-operated fleet will be capable of running on well-to-wake net zero-emission fuels such as green hydrogen, green ammonia, green methanol, and advanced biofuels. All newbuildings ordered by Danish shipowners from 2030 are to be made ready for net zero emission fuels or other zero-emission means of propulsion.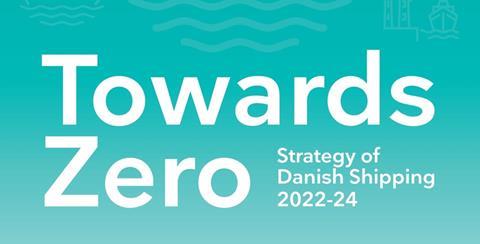 In addition, the shipping companies will strengthen their climate reporting, make a tangible mark on the European climate package "Fit for 55" and promote the potential that Danish shipping companies have in offshore wind and carbon capture transport and storage.
"Denmark is a huge maritime nation, and we therefore have an obligation to utilize our size to play a positive and ambitious role in the green transition of global shipping. Therefore, the purpose of the new strategy Towards Zero is to accelerate the conversion of shipping towards becoming emission-free. Together with the government, we can show the way - not just in Denmark but on a global level," said Jacob Meldgaard, CEO of TORM and chairman of Danske Rederier.
The new strategy replaces the strategy Ahead of the curve which has just concluded. "The Danish fleet has grown considerably in both flags and gross tonnage, and exports have increased. These are the most obvious proofs that Denmark is a good place to run a shipping company. We had a goal that the number of ships under the Danish flag should grow 10 percent, and that number has grown 14 percent. Measured by tonnage, the fleet has increased by more than 40%, so it has more than succeeded," said Meldgaard