The UK government is funding a collaborative project to examine the potential of new technologies to reduce the carbon footprint of river ferry services in the north-east of England.
The project is intended to analyse potential approaches to decarbonise the operations of the cross-Tyne Shields Ferry service, which transports 500,000 passengers annually across the River Tyne between North Shields and South Shields.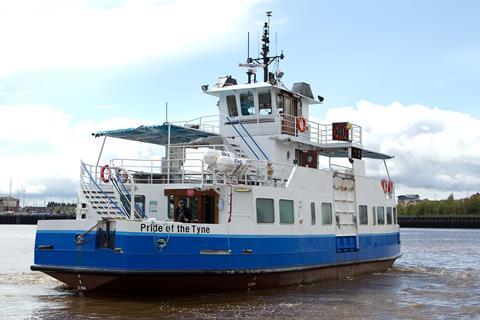 The CLEANFERRY project will bring together the UK-based marine engineering and propulsion specialist Royston, Newcastle University and the ferry operator Nexus. The project is intended to quantify the carbon footprint of the ferries' existing propulsion systems and assess the viability and cost benefits of retrofitting or upgrading these with advanced technology to deliver efficiency savings, lower carbon emissions and improve fuel consumption.
CLEANFERRY is part of the UK's wider Clean Maritime Demonstration Competition, funded by the Department for Transport and delivered in partnership with Innovate UK, with a £20m package, designed to position the UK at the forefront of green shipbuilding and maritime technology. This is also supporting 55 projects across the UK including initiatives in Scotland, Northern Ireland as well as across England.
The scope of work will see the installation of a state-of-the-art monitoring system to provide baseline emissions' readings in line with the UK's clean maritime plan - which identifies ways to tackle air pollutants and greenhouse gas emissions - and review the feasibility and impact of compatible technical and operational solutions to cut harmful greenhouse gas emissions. This will be followed by the creation of a route map for a follow-up technology solution.
Bijan Younessi, technical manager at Royston, said: "We are delighted to have secured funding and look forward to involvement with the university and Nexus on this important project. Fleet operators across the globe are investing in advanced digital solutions to boost vessel performance to help decarbonise the marine industry.
"This is a unique opportunity to combine relevant experience and knowledge to transform the carbon footprint of the Tyne ferry service and capture data that can be shared with other similar services across the country, maximising the impact of our work."