Gas bunkering has begun at the Port of Zeebrugge with the bunkering vessel ''ENGIE Zeebrugge'' making its first deliveries of LNG.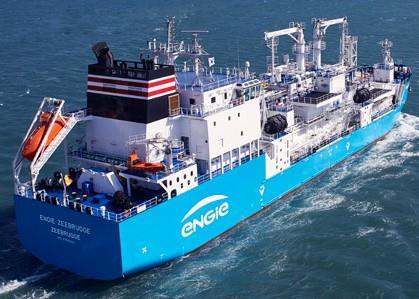 The bunkering vessel delivered gas to M/V AUTO ECO and M/V AUTO ENERGY, the two new gas-propelled pure car and truck carriers (PCTCs) owned by UECC.
These LNG bunkering operations were conducted at the same time that the cargo operations for PCTCs were taking place.
ENGIE Zeebrugge arrived in Zeebrugge at the beginning of April after delivery from Hanjin Heavy Industries & Construction Co Ltd in Busan, South Korea and following a 38-day maiden voyage.
The vessel is now executing a weekly service to the PCTCs of UECC and is one of the only LNG bunkering vessels to perform regular ship-to-ship bunkering services at the present time.
ENGIE Zeebrugge loads LNG at Fluxys' LNG terminal which recently commissioned its second jetty specifically designed for also receiving very small LNG carriers.
The vessel is jointly owned by ENGIE, Mitsubishi Corporation, NYK Line, and Fluxys. With an LNG capacity of 5,000 m3.
It will service all types of shipping customers in Northern Europe from its home port of Zeebrugge, under the brand Gas4Sea.
Gas4Sea was launched in September 2016 by ENGIE, Mitsubishi Corporation, and NYK Line to promote and develop the use of LNG as a sustainable alternative to conventional oil-based marine fuels.
The first ship-to-ship bunkering operations at Zeebrugge are a key milestone in the development of the nascent LNG bunkering market, which still needs the collaboration of many stakeholders to gain more commercial viability.
Guillaume Paternoster, LNG Bunkering Business Developer from Engie/Gas4Sea will be speaking at our 8th Gas Fuelled Ships Conference, so book your place now to find out more about the Engie Zeebrugge and receive an update on low flash point fuels bunkering infrastructure.
The Gas Fuelled Ships Conference is the only event to include technical visits and, as ever, this year's Conference with its unique technical visits of the fuel cells in situ on the Viking Mariella, another first for the GFS Conference.
Delegates will benefit from two nights' accommodation on board the Viking Mariella, two breakfasts, three lunches and two dinners, when joining the Conference.
Places at the Conference will be limited so delegates are advised to book early to guarantee their place.
Shipowners qualify for special rates.
For further details contact the Events team on +44 1329 825335 or email gasfuelledships@motorship.com.
Follow the event on Twitter @GFShip.