Benefit from the fantastic line up of Propulsion & Future Fuels speakers after the event. More than 80 profiles, papers and presentations from this year's conference are now available to download from the conference website.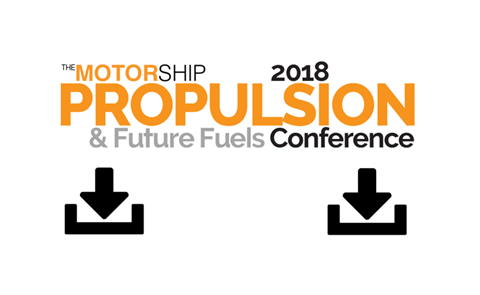 If you didn't make it to Hamburg this November, there is still time to download the conference proceedings, including presentations from the following speakers:
Sjaak Klap, V.P., Business Development Department, Spliethoff
Gunnar Helmen, Sales Manager Marine, Skangas
Harry Conway, Vice Chairman, MEPC (Marine Environmental Protection Council), IMO
John Bradshaw, Technical Director, International Chamber of Shipping
Gerd Wuersig, Business Director, Alternative Fuels, DNV GL
Peter Kunz, Project Leader MTU Gas Mobil Program, Rolls-Royce Power Systems AG
Rolf Stiefel, Vice President, Sales & Marketing, WinGD
Reetta K. Kaila, Sales Manager, Fuel Gas Supply Systems, Wärtsilä Gas Solutions
Poul Woodall, Director, Environment & Sustainability, DFDS
Steve Esau, General Manager, SEA\LNG
Stein Thorsager, Sales Director, Wärtsilä – Environmental and Economic Solutions for Shuttle Tankers
You can still benefit from the papers and presentations from our line-up of expert speakers. The proceedings are available to purchase from the link below and contain papers and presentations from over 40 speakers. Three options are available:
Combined download – Over 80 profiles, papers and presentations – Only €520
Propulsion stream – Over 60 papers and presentations – Only €395
Fuels stream - Over 60 papers and presentations – Only €395
Click here to buy the download
Take a look at this year's full programme on the website, and view a selection of the sessions on offer below:
Shipowner panel: investing in the future fleet
Understanding the future fuel mix
Fuels - shipping's gas fuelled future
Propulsion - protecting the Power plant
Propulsion - electric avenues
Fuels - ULSFO: the new standard?
Building better ships
From 19-21 November 2019 we are heading back to Hamburg for the next instalment of the annual Propulsion & Future Fuels Conference. See you in 2019!
If you would like more information about the conference download, don't hesitate to contact the Events team on +44 1329 825335 or email conferences@propulsionconference.com.