Hyundai Heavy Industries – Engine & Machinery Division (HHI-EMD) has been selected by Eneti, Monaco, to deliver ammonia-ready engines for two wind turbine installation vessels (WTIV).
The vessels will be built by Daewoo Shipbuilding and Marine Engineering (DSME).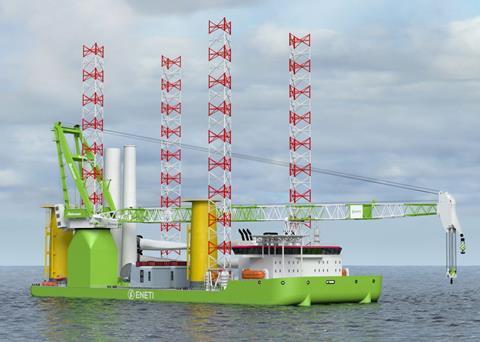 The deal includes the supply of HiMSEN medium-speed engines fitted with selective catalytic reduction (SCR) units. HHI-EMD will deliver six engines per vessel, 4 x HiMSEN 9H32/40 and 2 x HiMSEN 7H21C with SCR. These will be used for both operating the vessels and the cranes for the installation of the wind turbines.
The SCR units will be upgraded to exceed Tier III regulations for the reduction of NOx emissions by 40%. HHI-EMD says this is the first time that this level of reduction has been realized and it is the result of the strong collaboration with Eneti.
The first vessel is expected to be delivered in August 2024, while the second vessel is scheduled for delivery in early 2025.