UK-based Silverburn Shipping has chosen a pair of 2,200bhp Cummins QSK60-M Tier 2 high speed diesels to power a new AHTS designed for service in the Caspian Sea.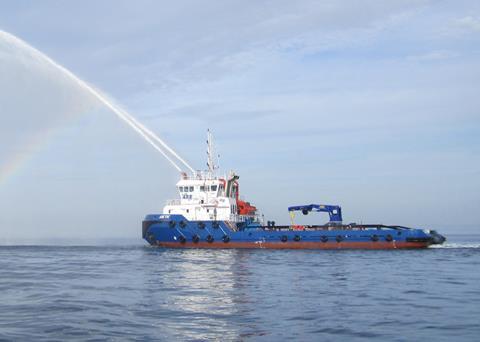 The company, which normally operates tugs and barges, says that it has previously used Cummins engines in its tugs – the latest pair each having three KTA50-M2 engines of 1,700bhp. The new AHTS ship has been designed with Arctic operation in mind – in fact it carries the name Arctic – and is classed by Bureau Veritas to Hull Mach Tug FiFi I AUT-UMS Iceclass 1A Unrestricted Navigation. It was built at the Sefine shipyard in Turkey. Design work included tank model testing at Aker Arctic to affirm, prior to construction, that the hull form was capable of performing to Finnish and Swedish Ice Class 1A Super standards. The vessel can operate in ice up to 0.8m thick. For seagoing operations the 42m x 12.5m vessel operates at a 3.5m draught, which can be adjusted to 2.5m to allow operation in the very shallow waters of the Northern Caspian Sea.
The two Cummins main engines, each rated 1,641 kW at 1800rpm, turn through Reintjes gears to four-blade CP propellers in nozzles, to deliver 50t bollard pull. The machinery installation includes two Cummins KTA19-Cps (335kW) gen sets providing power to the electro-hydraulic cranes and winches, as well as ship's needs, a Cummins 6CT-UCM (113kW) harbor genset, and for emergency power a Cummins 6C-CS (26kW) genset. All gensets are fitted with Newage alternators, produced by Cummins Generator Technologies. Two 650kW firefighting pumps are each powered by a clutch-connected PTO to the front of the main engines.