Electric motor specialist Hoyer has modified its marine motor for extreme conditions onboard an Aker Arctic 130 icebreaking support vessel built at Russia's Vyborg shipyard.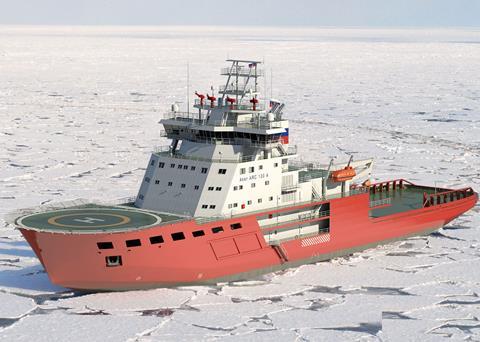 The eight motors, ranging from 15kW to 37kW, were used in a 252kN anchor winch supplied by Spanish company Fluidmecanica and were required to operate in air temperatures to -60˚C. The motors were adapted with bearings, packaging and oil seal rings made of Teflon, while metal was used instead of plastic for cooling wings to prevent them snapping.
The components were required to pass a chill test to prove they could handle the cold. Documentation for the test enabled classification by the Russian Maritime Register of Shipping, with laboratory DELTA conducting the tests.
Erik Jensen, account manager, DELTA, explained: "The usual problem in cold surroundings is that damp in the bearings or frozen oil can lock movable parts. This is typically the case when the motor needs to restart after having been switched off in extreme temperatures. That's why we put the motor in a climate chamber, where we left it switched off for 24 hours at -60˚C and then went back to switch it on again."
Adam Slupinski, country manager, Hoyer, noted that delivery of the motors took place six weeks after the order. despite design modifications, testing and classification requirements. "Next time we get a similar project, we will be able to deliver even faster as we now have the experience, the test documentation and internal procedures in place," he added.
The 122m loa, 25m beam Aker Arctic 130 vessel will operate in two-metre thick polar ice north of Siberia.