Reederei HP Wegener has installed the Alfa Laval PureSOx on two container vessels as a solution for meeting sulphur emission limits.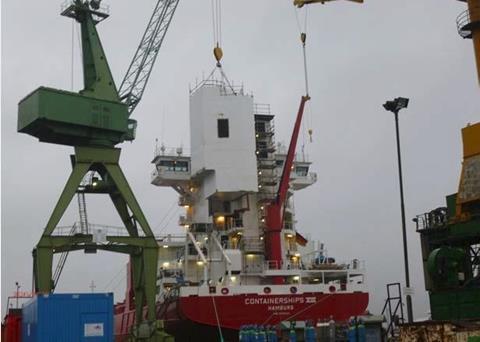 The company has seen major fuel cost savings within the 1000 days of continuous scrubber operation on the vessels, which are chartered by Containerships Ltd.
"PureSOx lets Containerships VI and VIII continue using HFO, instead of more expensive, low-sulphur alternatives," said Dr Jörn Mecklenburg, managing director at Reederei HP Wegener.
He added: "A scrubber starts to pay off when 40% of a vessel's time is spent in ECAs, so the business case for these vessels was very clear. Even with the lower fuel delta in the past year, it turned out to be a good investment."
The vessels were equipped at the German Dry Docks in Bremerhaven, and are the first feeder vessels to be retrofitted with PureSOx.
These retrofits were requested by Containerships Ltd. Oy prior to the onset of new sulphur emission regulations in January 2015.
Dr Mecklenburg predicted that switching to another low-sulphur fuel would have increased the charterer's fuel costs by up to 100%. Instead, the savings provided by PureSOx allow Containerships Ltd. Oy and Reederei HP Wegener to continue operating competitively.
He explained: "We've been very satisfied with the reliability in the first year of operation. During that short time, our scrubber investment has basically paid for itself."
"Working with Alfa Laval has kept our ships in compliance and allows our charter customer to continue offering competitive rates for freight. Our experience has shown the clear benefits PureSOx offers, for profitability as well as peace of mind."
The yard had retrofitted five ConRo vessels with the system the previous year, and has since retrofitted other feeder container vessels similar in size and operating profile to Containerships VI and VIII.
Additional retrofit contracts are also expected to be in the pipeline at the German Dry Docks.