He maybe one of the grandfathers of ro-ro technology but Jack Brown admits design is still an itch he occasionally wishes he could "simply turn off", adding: "If I get an idea I have to try to follow through, just to see if it's practical."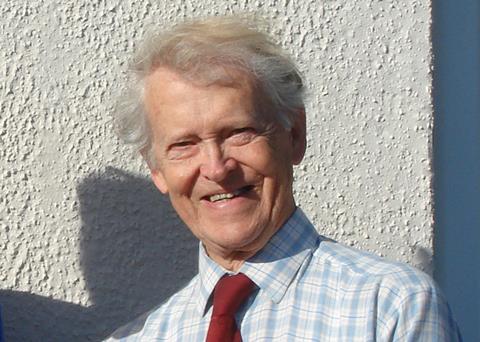 It's a persistent habit that has resulted in over 50 patents, most within the ro-ro sector which "still fascinates". However, while a healthy number took root immediately – like hydraulically activated platforms ramp systems - some had to wait; the Tiltdek concept sat on his drawing board for a number of years before becoming a part of modern ferry design. Many gave others food for thought: a roll-off tug and barge concept for the congested Jeddah of the 70s "just resulted in the Saudi authorities going out to charter as much ro-ro tonnage as they could get".
It has to be said his early, post-war experience in the family shipyard, George Brown & Co, probably provided a niche and frustration in equal measure: he worked by day and sharpened his talents in both naval architecture and – most importantly - production engineering at night school. Unfortunately the training didn't necessarily give him a talent for winning family debates; European yards using prefabrication processes had stolen a march on UK builders but it still took him "about five years too long" to convince his father and uncle to invest in a bigger, more productive crane.
During the following decade Mr Brown had a hand in some notable builds, but it was really the NA Comeau, a 1,235gt ferry for the lower St Lawrence river crossing in Canada, "that even now I'd say was the most fun". He was directly involved from the start of negotiations – his father being gravely ill – and soon realised the prospective owners had very little idea about boats in general or how to run them. "There was virtually no guidance at all for the vessel," he says, but rather than hesitating he took it on almost single-handedly, drawing on his experience of harsh Canadian conditions and interest in new technology: this gave the vessel an icebreaker bow and made it one of first to have pneumatically sealed stern doors.
However, his ability to innovate probably proved most significant: "Very late in the day it became apparent that the owners wanted the raised deck head to carry three 50 tonne semitrailers – nearly doubling the cargo weight, and all of it up one end". His ingenious solution was a big 200tph pump which shifted water between fore and aft ballast tanks to trim the vessel twice as fast as the usual method.
He also has an eye for business. When the old yard got trampled by European competition, Mr Brown saw an opportunity to utilise the space to manufacture cargo handling and access equipment and in 1962, Cargospeed was born.
Interestingly, the company kept using the pneumatic seals fitted to NA Comeau and added finesse with hydraulic actuators. He recalls at one point there was some "cross-river rivalry" between two yards building ro-ro vessels and the new technology definitely scored a point for all to see: "We tested out our bow doors and they went off beautifully... while across the water their doors were causing all sorts of troubles".
It was certainly his ability to keep ahead of the game that helped gain both naval and commercial contracts, allowing Cargospeed to be pitted against established players such as MacGregor. For example a drive-through ferry, 'Lion', allowed folding away the access after use rather than hoisting it up, lowering the centre of gravity as well as gaining headroom; the QE2 benefitted from folding platforms in the hatchway trunk and Townsend Thoresen ferries saw the first 'Neatstow' doors. Apart from this, Mr Brown also kept his process-engineering mind at work and supplied ready-to-fit units, making them popular with the yards.
By contrast, the accounts on the older shipyard proved much more difficult to balance and 'unfriendly bank managers' created problems: worse yet, the yard was still financially linked with Cargospeed. Unfortunately, when the Mexican currency collapsed and customers "just failed to meet the final instalment", it pushed both yard and Cargospeed under – an ignominious end. Private tragedy followed, Jack's wife passed away just five months later.
Despite all this, life had not finished dealing with him, and what came next he found "shocking" – as did many others: "Seeing Herald of Free Enterprise laying on its side with its bow doors open has to be the worst experience of my commercial life," he says. Sadly he recounts suggesting to Townsend Thoresen that new CCTV equipment could be pointed to the doors for extra security. This had been "summarily dismissed" at the time, he says: "I was told 'we have two crew double-checking everything'." Unfortunately, both were otherwise engaged (one asleep) and the tragic loss of life is history.
It's characteristic that the disaster spurred Mr Brown to take on a new venture; ro-ro safety innovation. He believes that 'active' as well as 'passive' (energy-neutral) safety devices - such as his automatic, free water draining concept and a ro-ro buoyancy aid that inflates on leaving berth – should be investigated thoroughly and not automatically disqualified through the application of what he believes are outdated rules.
"Applying the same logic to plane undercarriages would mean they would have to be fixed... and neither do you stop your car by driving into a wall," he concludes.
Time may well prove him right.