According to UK computer aided design and manufacture (CAD/CAM) specialist Aveva, the use of laser scanning can give shipyards a competitive edge in refit and conversion projects, such as the installation of ballast water treatment systems or exhaust gas scrubbers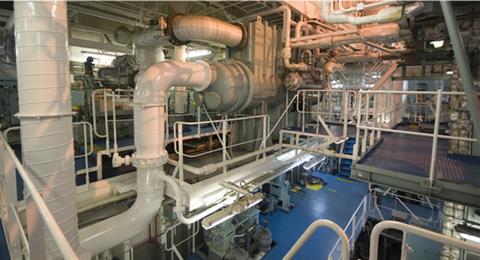 Aveva says that the key to competitive tendering lies in being able to capture the 'as-operating' vessel into the 3D design environment quickly, accurately and economically.
The company says that it has produced a paper, available to shipyards free of charge, which examines how rapid, accurate and non-intrusive 3D laser surveying can increase yard capabilities to meet the coming surge in demand, and find new business opportunities in a difficult economic climate.
"In a depressed, buyers' market, ship owners are driving hard bargains and shipyard profitability is being squeezed", said Gary Farrow, Aveva vice-president of 3D data capture business management. "Traditional manual surveying is costly, time-consuming and of limited accuracy. Dramatic increases in efficiency have been enabled through greater automation, rapid visualisation and processing of laser data making the conversion of laser scans into 3D quicker and cheaper than ever before. Shipyards will see increasing opportunities in refit and conversion projects, but only if they can offer rapid turn-round, competitive prices and more added value."
Early availability of detailed and accurate 3D surveys from laser scan data enables shipyards to be ahead of the game, planning the project, designing the refit and procuring materials ready to begin work as soon as the vessel reaches the repair dock. The use of scanning helps shorten the time out of service.
The paper covers various topics, including:
Capturing the as-operating condition. Because laser scanning is relatively fast and non-intrusive, there is often no need to wait until the vessel is in dry dock to perform the survey. It can take place well in advance of the scheduled refit.
Combining reality and design. Refit work can begin immediately and be carried out quickly, with little or no rework required, because the new items will have been accurately checked against the 'as-is' vessel.
Reverse engineering. Aveva Laser Modeller enables pipes or structural elements captured in the point cloud to be identified and interactively converted into intelligent 3D model objects with associated attributes.
Creating the design. The designer can use the Aveva Marine software suite to complete the design by integrating existing and new objects, running collision detections, and creating drawings and other production deliverables.
Additionally, Aveva considers that there is a strong case for making laser surveying of an entire vessel an integral aspect of its lifecycle management. This applies in particular to smaller fleets, where having a single vessel out of service has a great impact on the whole, and is particularly relevant for yards involved in maintenance and repair contracts impacts for naval and naval support ships.
As far as the actual software goes, Aveva Laser Modeller uses 3D laser scan surveys to reverse-engineer intelligent and accurate 3D models, rapidly and at low cost. Aveva Laser Model Interface works with Aveva Marine to fuse datacentric 3D design with high-definition laser scan surveys, allowing the survey data to be shared and exploited across an entire project.
Aveva Net IntelliLaser is a web-based product that automatically associates 3D laser scan data with the corresponding 3D plant design model and all its associated information.
Mr Farrow added: "Equipped with the 3D scans, refits and conversions will be more efficient benefiting not only the ship owner but also the shipyard. This is a true enabling technology that can help shipyards to survive the downturn, enhance their business value and position them to take full advantage of a market recovery".