On Thursday 4th November, delegates are invited to join us onboard the M/V Copenhagen, equipped with a rotor sail from Finnish supplier Norsepower, helping to further reduce CO2 emission from the hybrid ferry.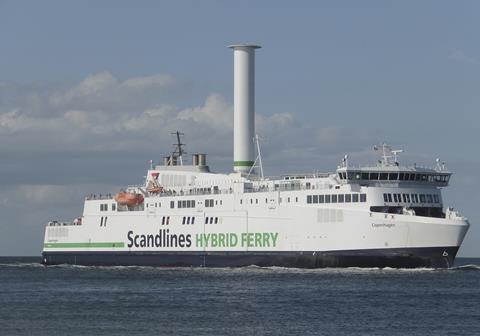 A rotor sail has the optimum effect when it is windy, and the wind comes from the side. The route between Gedser to the north and Rostock to the south is almost perpendicular to the prevailing wind from the west or the east. This gives the M/V Copenhagen favourable conditions for using rotor sails on the crossing. By installing a rotor sail, Scanlines expect to reduce the CO2 emission from M/V Copenhagen by four to five per cent.
For more information, visit https://www.scandlines.com/about-us/our-green-agenda/powered-by-the-wind/
There is a 30 space limit on this year's technical visit, so please get in touch with the conference producer, Markell Charles-Bailey, via Phone +44 1329 825335 or email mcharlesbailey@mercatormedia.com to secure your space.
To book your delegate space at Propulsion & Future Fuels 2021, which includes a space on the technical visit (subject to availability), visit our bookings page. Alternatively, contact the Events team on +44 1329 825 335 or email conferences@propulsionconference.com.
Take a look at the conference programme to see other confirmed sessions and speakers.
Your delegate space will include:
Conference attendance with lunch and refreshments on both days.
Full documentation in printed and electronic format.
Place at the drinks reception (2nd November 2021).
Place at the Conference Dinner (2nd November 2021).
Place at Technical Visit (4th November 2021)
Book online today or contact the team on 44 1329 825335. You can also email conferences@propulsionconference.com