LGM Engineering signed a contract with Guangzhou Shipyard International and Shanghai Waigaoqiao Shipbuilding to supply the fuel gas supply system (FGSS) for eight LR2 crude/product tankers. The 119,000dwt newbuildings were ordered by China Bank of Communications Financial Leasing (BoComm Leasing) and deliveries are expected to start from summer 2022.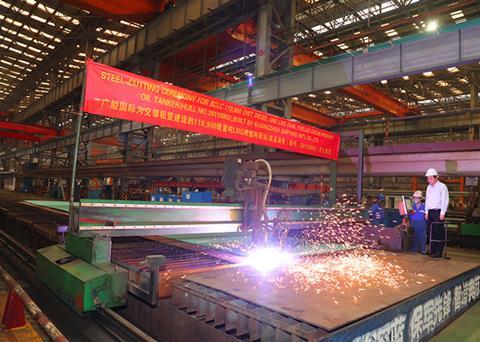 GSI announced that the steel-cutting ceremony for the first of the four 119,000dwt vessels was held on 5 March 2021. The dual-fuel LR2 tankers will be able to meet IMO Tier III emission standards.
According to an LGM Engineering representative, the company will supply the complete LNG fuel gas supply system (FGSS) including; the system design and manufacture of two Type C fuel tanks, the LNG bunkering station module, the water glycol system, the gas detection system, and nitrogen generator system.
The scope of supply includes the provision of installation guidance for the FGSS fuel gas control and ESD system, as well as support for the commissioning, gas trial, sea trial and crew training.
The contract extends LGM Engineering's recent record in winning FGSS contracts from Chinese shipyards. The Motorship reported that LGM Engineering had been awarded the contract to supply the FGSS for the first dual-fuel VLCC, which is under construction at DSIC. The company also won its first contract from a Japanese shipyard in July 2020.