ABS has awarded Approval in Principle (AiP) to Samsung Heavy Industries' (SHI) design for a one-side spread mooring system for a floating liquefied natural gas (FLNG) facility.
The system allows an FLNG to be safely spread moored on one side, enabling LNG carriers to berth and load on the opposite side free from obstructions.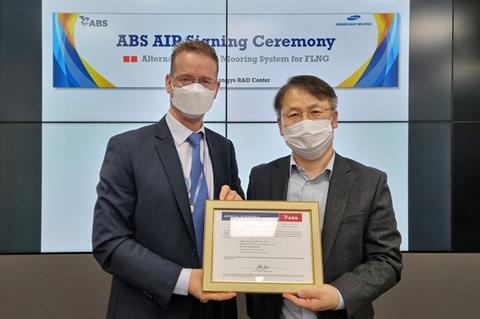 "The one-side spread mooring system is a patented technology that can replace complex turrets in a mild offshore environment," said Wang K. Lee, Vice President of SHI's Offshore Business Division. "It will be the optimized solution for shipping companies looking for economical FLNG models."
SHI has built three of the world's four FLNGs: Prelude off Australia, Coral-Sul off Mozambique, and PFLNG DUA off Malaysia.
New liquefaction systems
SHI demonstrated its new in-house natural gas liquefaction system for FLNGs SENSE IV (SAMSUNG Enhanced Nitrogen Split Exapnsion IV) in November 2021. The system separates oil from gasoil and liquefies natural gas at under minus 162℃, reducing its volume 600 times. it can produce more than two million tons of LNG annually and reduces the power consumption required to produce one ton of LNG by up to 14% compared to existing gas expansion liquefaction process.
Young-Gyu Kang, EVP of Offshore Projects Development & Execution at SHI, said "The successful development and demonstration of SENSE IV will further improve product reliability of the full LNG value chain including production, transportation, storage, and supply of natural gas." SHI is a total LNG solution provider with engineering, procurement and construction capabilities. It has built three out of four FLNG orders placed around the world so far.
In 2020, SHI received Detailed Design Approval from ABS for X-Reli, an LNG re-liquefaction system for X-DF engines. The patented system is able to re-liquefy the whole boil-off gas evaporated from cargo tanks except the gas necessary for vessel operations without additional refrigerants.
Innovation continues
SHI has built an LNG test facility to advance its gas technologies which includes the capability for development of liquefaction and reliquefaction processes, gas engine and fuelling systems, cryogenic insulation storage containers, and regasification and cold power generation.