On 30 December, the 18,600m3 LNG bunkering vessel Gas Vitality completed its first LNG loading operation at the Fos Cavaou LNG Terminal. TotalEnergies expects the vessel to undertake its inaugural bunkering operation in due course, TotalEnergies announced on 3 January.
Gas Vitality is the first LNG bunker vessel to be based in France, and has been chartered by TotalEnergies' affiliate TotalEnergies Marine Fuels. The bunker vessel is operated by V.Ships France under the French flag, and is based in the Port of Marseille-Fos, where it will serve the Mediterranean region.
She will notably perform LNG bunkering services to CMA CGM's LNG-fueled containerships and MSC Cruises' upcoming LNG-powered cruise ships that call at the French port. TotalEnergies and CMA CGM signed an agreement for the supply of approximately 270,000 tonnes per year of LNG over ten years covering the supply of CMA CGM's new 15,000 teu container ships at Marseille-Fos operating between Asia and the Mediterranean.
New LNG terminal
The loading also marks the inauguration of the new Fos Cavaou LNG terminal. The terminal is operated by Elengy, and will offer 50 loading slots per year for small scale LNG loading vessels of a capacity up to 40,000m3.
In addition to supplying Marseille-Fos, the new terminal is also well located to become a ready source of LNG supply for many surrounding ports in the Western Mediterranean.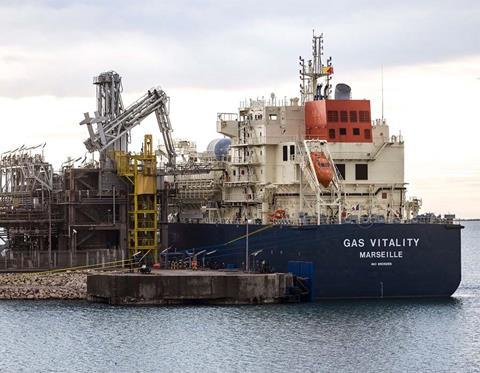 Back in 2019, France's Marseille Fos port announced it was boosting its use of LNG as a marine fuel, aiming to position itself as an LNG bunkering hub for the Mediterranean.
Marseille-Fos carried out its first ship-to-ship LNG bunkering operation in early May 2020. LNG giant Shell and the world's largest cruise operator Carnival carried out the second LNG bunkering operation in the port in June 2020 supplying fuel to the cruise ship Costa Smeralda.