Mitsubishi Shipbuilding has received an order from Imabari Shipbuilding for Fuel Gas Supply System (FGSS) for six LNG-fuelled car carriers. The supplier announced that it is the first order for an FGSS for high-pressure dual fuel engines.
The scope of supply includes an LNG fuel tank, a fuel gas supply unit, and a control device. The solution has been designed to minimise the system's footprint, and includes a control device that can be modified upon request.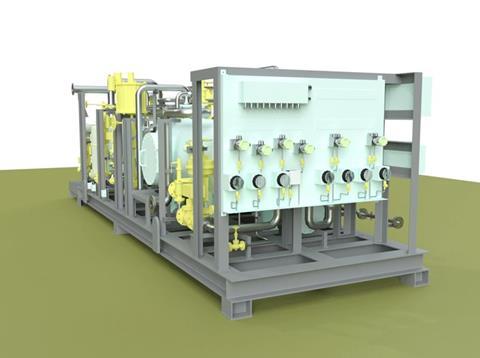 The company declined to specify the identity of the shipowner or the shipyard. Local media reports noted that NYK has announced plans to order up to 12 dual-fuel PCTCs from two local yards.
The order will establish Mitsubishi Shipbuilding as a supplier of low and high-pressure FGSS solutions. Until now, Mitsubishi Shipbuilding has focused on the development and delivery of FGSS for low-pressure engines. The company supplied the FGSS for Sakura Leader, Japan's first LNG-powered pure car and truck carrier (PCTC). The vessel was built at Shin Kurushima Dockyard for NYK.
The Motorship notes that Mitsubishi Heavy Industries has previous experience in developing high-pressure FGSS systems, having received an order from Hitachi Zosen for the supply of a system for a power-to-gas solution in Japan in 2016.