Titan LNG has developed a new LNG tank design that overcomes regulatory limitations set for inland waterway vessels and will save space on the company's latest bunker vessel newbuilding.
The European code for carriage of dangerous goods sets a tank capacity limit of 1,000m3 per tank onboard bunkering barges. This has led to vessel designs with many small, relatively expensive tanks onboard. Continued market growth and the higher tank capacity of the global fleet of LNG-fuelled vessels is generating demand for more and larger bunker barges, challenging the efficiency of up-scaling vessel capacity under the code.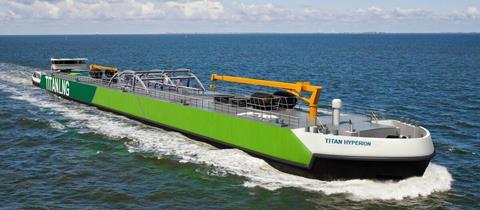 Titan LNG has developed an alternative way of complying with the code and maintaining safety standards by creating multiple 1,000m3 internal tank partitions within a single bilobed tank structure. The tanks take up less space than multiple cylinders, and the internal partitions maintain the equivalent structural integrity should tank damage occur. Bunkering procedures and equipment are the same as for conventional inland waterway-compliant tanks.
The larger tank size has enabled the use of lighter and cheaper foam-insulated tanks instead of the vacuum-insulated pressure tanks that are more common in the <1,000cbm tank size range. The tank's boil-off gas performance is the same as typical Type C tanks, as is its sloshing performance. As Type C tanks are designed for high vapour pressures, sloshing and slamming are rarely governing structural load cases.

Tank support requirements are similar to other Type C tanks, although tank domes are grouped together around a fixed support, allowing no lateral movement due to temperature variations. The resulting configuration has a central fixed support and two outer sliding supports.
Titan LNG has patented the design and technically validated it for a bi-lobe tank design, cooperating with HB Hunte Engineering to prove the structural feasibility of the tank.
A growing fleet
The tank design has been included in Titan LNG's LNG-fuelled "Hyperion" inland waterway bunker vessel design series. At a total capacity of 8,000 m3, the lead vessel's length and breadth were reduced by 10-20% compared to the individual tank approach. Fuel consumption, steel weight, outfitting costs and overall environmental impact of constructing and operating the vessel were reduced by similar percentages. The resulting vessel lay-out, stability and dimensions are suitable for both inland and seagoing vessels.
Titan LNG's current bunkering fleet includes the LNG bunker barges FlexFueler 001 and 002, each 76 meters long and 11.4 meters wide. The FlexFueler concept was developed in-house by Titan LNG and represents the first generation of LNG bunker assets tailor-made for the Antwerp-Rotterdam-Amsterdam area.
Titan Hyperion, 127.4 metres long and 19.5 meters wide, will target the market for LNG and bioLNG for larger ocean-going vessels in the region. Anticipated for delivery in 2023, the vessel will also serve as a mother ship refuelling the FlexFueler barges to achieve higher utilization of the fleet.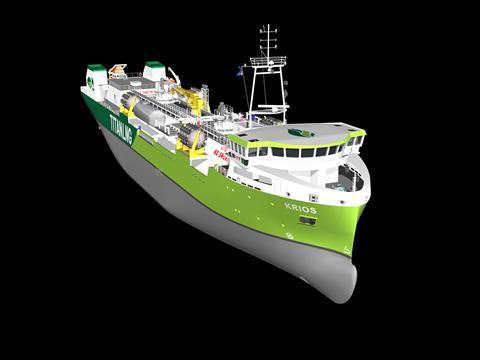 "In the design, we have incorporated four years of lessons learned from LNG bunkering, including the FlexFueler barges and the largest LNG bunkering transfers using small scale LNG carriers in the world," said Ronald van Selm, CTO of Titan LNG. "Our design will enable Titan LNG to efficiently, safely, and cost effectively deliver larger parcels of the cleanest marine fuel. The Titan Hyperion will be ideal for servicing large tankers, cruise, container and offshore vessels."
Titan LNG is adding a further bunkering barge to its fleet. The 4,500cbm capacity Krios will operate in the Port of Zeebrugge and in English Channel ports from 2023. The low air draught, highly manoeuvrability vessel will operate with multiple cylindrical tanks to segregate streams of LNG and bio-LNG. Designed by HB Hunte Engineering, it is expected to be operational in 2023.
Titan LNG is the exclusive long-term off-taker of the bio-LNG that will be produced from the Attero facility in Wilp in the Netherlands. Attero will produce 6 million Nm3 of biogas per year from domestic biowaste as part of the EU's FirstBio2Shipping project. The biogas will be upgraded and liquefied into bio-LNG by Nordsol's iLNG technology. This technology resolves various challenges in the production of small-scale LNG including: producing high quality bio-LNG (not containing contaminants); zero methane slip; and no high temperature demands in gas treatment technologies, resulting in a lower total cost of ownership.
Attero and Nordsol anticipate producing 2,400 tons/year high-purity bio-LNG and 5,000 tons/year liquid bioCO2 from 2023. The produced bio-LNG will reduce GHG emissions by 92% compared to a conventional maritime fuel, representing more than 87,500 tCO2e net absolute emissions avoided during its first 10 years of operation.