Shell NA LNG (Shell) and Avenir LNG have signed a long-term LNG bunker vessel charter agreement.
The time charter is expected to begin in Q1 2023 for a period of three years, with an option to extend up to five years. The 20,000m3 ship will be delivered to Avenir LNG in Q2 2022.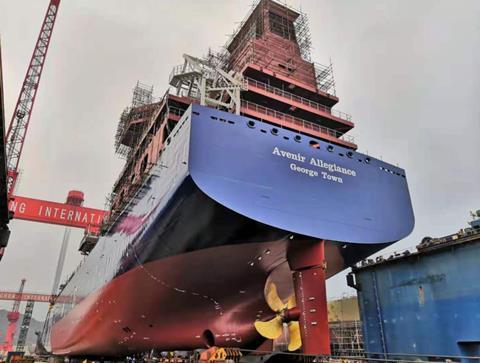 The bunker vessel, Avenir Achievement, is under construction at Nantong CIMC Sinopacific Offshore & Engineering in China. The shipyard delivered a sister vessel, the 20,000m3 Avenir Allegiance to Avenir LNG in the middle of December.
The vessel, which is powered by dual-fuel WinGD X-DF engines, is equipped with BOG reliquefaction and will be capable of simultaneous operations (SIMOPs). Avenir LNG claims that the bunker vessel will be the largest, most efficient and versatile LNG Bunker Supply Vessel afloat when it enters service.
Avenir, a joint venture consisting of Stolt-Nielsen, Hoegh LNG and Golar LNG, has a further 7,500m3 vessel on order at CIMC SOE.