During The Motorship's recent Propulsion and Future Fuels conference in Copenhagen, Dominik Schneiter, VP of Research and Development at engine designer WinGD, announced that the company had made a significant advance in reducing methane slip.
Schneiter revealed that WinGD had recently completed a test of concept trial of the extension of the Intelligent Control by Exhaust Recycling (iCER) solution to multi-turbocharger applications upon a production engine in China. During the trial it had successfully lowered methane slip emissions below 1g/kWh.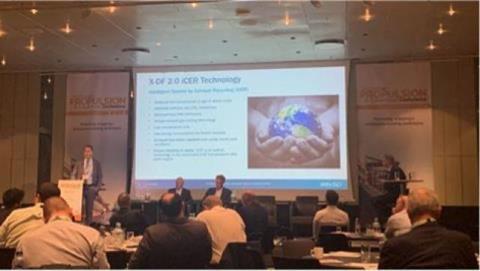 The achievement was a technical milestone in the reduction of greenhouse gas emissions from Otto cycle engines. Schneiter noted that this reduction below 1g/kWh represented "a record low for any lean-burning engine".
As reported by The Motorship, WinGD's iCER solution offers superior fuel efficiency and lower methane emissions by recirculating a significant proportion of exhaust gases.
In autumn 2021, WinGD has successfully validated the system, during a test of a 9X92DF engine rated at 42,560kW on a test system in China. The test system itself was designed to fit a larger 10X92DF engine rated at 51,680kW.
The trial results demonstrated that the solution was compliant with IMO Tier II in diesel mode, offering a fuel consumption improvement of >8g/kWh, but the more significant results were achieved in gas mode, where the solution was able to run higher compression ratios, resulting in a greenhouse gas emissions (GHG) reduction of "over 8%" using this technology. The NOx emissions were lowered below 0.5g/kWh during the gas mode, Schneiter added.
The concept was likely to be of particular interest to potential customers in the container vessel market, Dominik Schneiter noted, adding that the solution had been successfully demonstrated to selected customers and classification societies.