MAN Diesel & Turbo's PrimeServ division has performed a propulsion upgrade for a 900 m³ dredger in cooperation with owner, Saudi shipowner and constructional engineering company, National Chemical Carriers (NCC).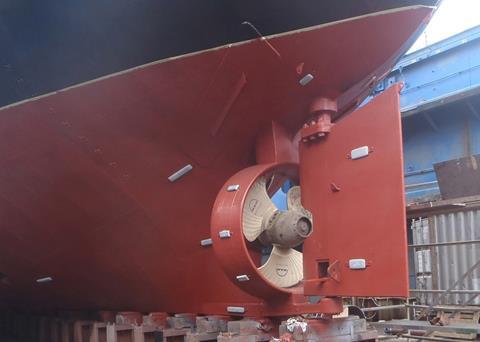 The upgrade equipped NCC owned dredger, the M/V Baltic with modern propeller blades and a propeller nozzle. This will only have a payback time of 1½ years, according to MAN.
The dredger has been in operation with the new propulsion equipment since April and feedback indicates a much improved performance already. Chief Superintendent Jeppesen, NCC, said: "The measured fuel consumption reduction is 14% and the noise level in the accommodation is reduced by 10 dB together with an effective reduction of vibrations. Also, the ship's manoeuvrability in harbours has been improved."
NCC approached MAN earlier in the year because it was interested in the upgrade of the Baltic, which having been built in 1983, had endured many years of propeller and aft-ship vibrations resulting in high noise levels in the accommodation.
The upgrade work was centred around NCC's requirement for increased propulsion efficiency and fuel savings. The propeller blade design chosen was a medium skew blade profile for ducted operation with a MAN Alpha AHT nozzle customised with a length/diameter ratio of 0.5.