To stay under the carbon reduction trajectories, ship owners need to decide on green strategies for managing carbon risk. DNV's Maritime Forecast to 2050 supports ship owners in these decisions with an updated framework designed specifically for detailed assessments of fuel ready and fuel flexible solutions.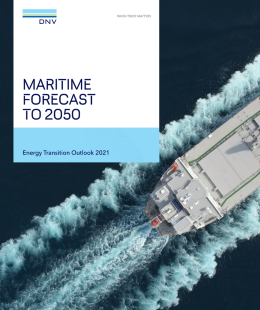 Fuel is the largest operational cost component for shipping, as well as being the biggest driver of emissions reductions. The shift to alternative fuels has already begun, but which fuel is the most viable option for your vessel? The Maritime Forecast to 2050 provides updated information on fuel strategies as well as techno-economic evaluations and design implications. The new decarbonization stairway also shows how individual owners can adapt to stay below the required GHG emission trajectories, maintaining compliance over the vessel's lifecycle.
DNV charts a practical path to stay under the carbon reduction trajectories, assessing technology, fuel and the energy production landscape.
Check out this year's Maritime Forecast to 2050 to see how you can stay resilient and competitive with fuel flexible solutions.