Engine designer WinGD has achieved a significant advance in its emissions reduction technology, announcing that it has lowered its methane slip reductions below 1g/kWh in a recent trial of its iCER solution for multiple turbochargers.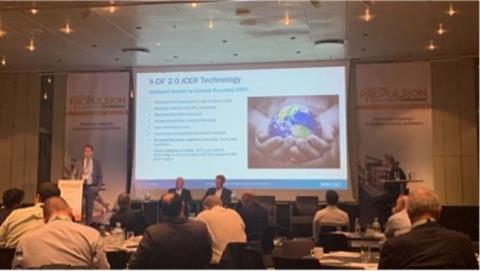 Dominik Schneiter of WinGD presented the engine designer's iCER exhaust recycling system, noting that the solution offered significant reductions in methane slip emissions. Schneiter exclusively revealed that WinGD had recently completed a test of concept trial of the extension of the iCER solution to multi-turbocharger applications upon a production engine in China.
The trial results demonstrated that the solution was compliant with IMO Tier II in diesel mode, offering a fuel consumption improvement of >8g/kWh, but the more significant results were achieved in gas mode, where the solution was able to run higher compression ratios, resulting in a GHG reduction of "over 8%" using this technology. Schneiter noted that this reduced the methane slip below 1g/kWh, "a record low for any lean-burning engine".