If passing ballast water management regulations into force proved difficult, effectively ensuring that discharge standards are adhered to could also be challenging.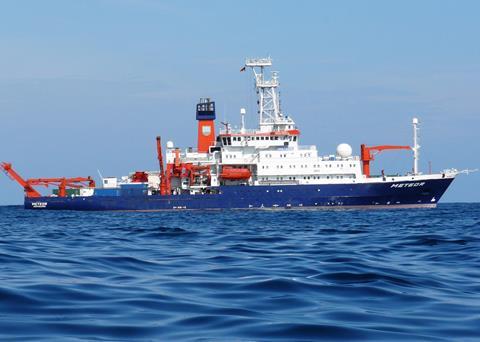 The Ballast Water Management Convention has finally entered into force, but what now? How will the convention be enforced and how will the efficacy of the systems shipowners have invested in be properly verified without guidance on the type of monitoring solutions capable of proving effective, accurate readings?
While there is a myriad of different technologies and techniques available for analysing the water treated by a ballast water management system, there is concern that some may not be as effective as others, providing spurious readings and potentially resulting in costly litigation for shipowners.
The disparity between readings from different sampling methods and analytical tools was given wider cause for concern in 2015, following extensive ballast water compliance monitoring trials aboard the 97m research vessel Meteor. Some twenty international researchers carried out tests onboard the vessel on behalf of Germany's Federal Maritime and Hydrographic Agency (BSH).
In the research paper A Shipboard Comparison of Analytic Methods for Ballast Water Compliance Monitoring, published in 2017 in the Journal of Sea Research and which highlighted the main findings from the Meteor study, Johanna Bradie concluded: "Several promising indicative methods have been evaluated which should prove useful for ballast water compliance monitoring. These tools differ in their sensitivity, output, costs, training requirements, and processing time, all of which must be considered when selecting tools for ballast water compliance monitoring. Future work will be required to determine the accuracy of these methods at varying cell concentrations, to assess these methods in different types of plankton communities, and to determine if different processes for treatment of ballast water have effects on the analytical results of the instruments. A better understanding of the variability in concentration estimates due to the selection of calibration factors is crucial."
During the Meteor tests, thought to be the first-time multiple sampling devices had been tested under real operational conditions, 28 trials were carried out to compare different sampling and analysis tools for measuring organisms in the >50μm range (most often zooplankton), the 10-50μm range (most often phytoplankton) and organisms <10μm (bacteria).
Water samples were collected using paired sampling devices and analysed to determine whether results were similar between devices and whether quick, indicative methods could offer comparable results to standard, time-intensive testing methods (e.g. microscopy) and high-end scientific approaches.
Detection threshold
Researchers found that bacteria levels were low throughout the test voyage, with nearly all samples indicating levels of E. coli and Enterococci below the detection threshold for all measurement instruments. In the Report on Performance of Ballast Water Collection and Analysis Devices, the 2016 paper that followed the Meteor trials, its authors stated: "Analytic tools to detect total bacteria (IDEXX Simplate and SGS ATP (aqua-tools) were able to detect bacteria throughout the voyage, but there was low correlation between measurements by each method. SGS ATP (aqua-tools) detected bacteria when IDEXX Simplate readings were below the detection limit. Note that the detection limit of IDEXX Simplate varies depending on dilution used and that the SGS ATP (aqua-tools) methodology is designed to detect all 'living' ATP, whereas IDEXX Simplate is specific to bacteria that grow at 35°C."
Referring to the sampling systems and their performance in waters with high levels of suspended sediments, the report suggested a division between system developers on how high organism densities or high sediment loads affect sampling.
It furthered that samples with a high concentration of particles could be compliant and thus the SGS skid was seen to be designed to maintain operations even when particle loads were high. In contrast, a competing technology assessed assumed that a blocked filter is a symptom of non-compliance and sampling should be stopped, since either a high sediment load or a high organism density during sampling would generate irreversible negative impacts on the vitality of the live organisms targeted for analysis.
During the Meteor voyage, the filter of the competing skid was clogged by very high organism densities and the filter cartridge "jumped off its seat" and became inoperative. This, states the report, "would be interpreted as a compliance failure".
The research verified the capability of aqua-tools' ballast water monitoring kit to provide measurement readings in under 1h, with analysis of organisms in the 10-50μm and >50μm ranges taking just 50min. Analysis of bacteria took 15min. It also verified its user-friendliness, with minimal training required. Some of the other monitoring tested required microscopy training and some knowledge of zooplankton and/or phytoplankton taxa.
Bacteria concentration
"The measurement of ATP (adenosine triphosphate) has a long history in determining concentrations of bacteria," says Marc Raymond, the managing director of aqua-tools, the France based company behind the development of a new generation of ATP analysis tools.
"While existing bioluminescence methodologies used to monitor Adenosine Tri-phosphates (ATP) are an accepted method for testing surface waters, they are ineffective in high salinity waters and do not provide a reliable tool with which to test the efficacy of ballast water treatment systems."
The success of the second-generation ATP (ATP2G) method in detecting bacterial ATP and larger planktonic organisms in ballast waters is due to the homogenization of the water sample. This eliminates the complex structures that conventional lysing agents fail to break down. Aqua-tools uses a stronger ATP extraction agent to deal with the more complex cell walls found in phytoplankton and zooplankton. Thus, organisms well below the D-2 limit values are detected, leaving operators in little doubt that their system is compliant (or not).
While detection is rapid, analysis takes a little longer with results giving a strong indication of the performance of the ballast water treatment system in under an hour. When used on a representative sample, it gives a clear response in terms of gross exceedance of the discharge standards upon arrival in port.
"The method has been developed to be able to work on ≥50μm plankton, ≥10 to <50μm plankton and on bacteria, since all three of these classes provide important information on the functioning of the ballast water treatment system. Non-compliance of the ≥50μm fraction indicates a problem with the filtration unit of the treatment system, while non-compliance of the ≥10 - <50μm and bacteria fractions indicate problems with the disinfection unit," says Raymond.
Several IMO Member States are already implementing Port State Control (PSC) inspection regimes to ensure that ballast water discharge is within the regulatory limits specified in the IMO D-2 parameters list.
SGS Group, the Geneva-based accreditation and certification organisation, for instance, is working in several countries to carry out ballast water sampling and testing on a project basis. These include the USA, Canada, Brazil, Chile, Spain, Belgium, Netherlands, Germany, Italy, UAE, Saudi Arabia, Singapore, Taiwan, Thailand, China and South Korea. Other countries are in the pipeline.
"To date, our scope for US Vessel General Permit and IMO D-1 and D-2 compliance is performed mainly on behalf of shipping companies, but it is our intention to promote and develop our service offering to the PSCs," says Vladimiro Bonamin, vice president, global business development manager, SGS Group Management.
Over the past five-years, SGS has worked closely with a number of specialist technology companies to develop effective and, importantly, accurate ballast water sampling solutions, one of which is French company aqua-tools, from whom SGS recently ordered some thirty second-generation ATP ballast water monitoring kits. Some of these kits will be shipped to Saudi Arabia, one of the first countries to require vessels (from August 2017) to present a ballast water report and sample.
"With the entry into force of the Ballast Water Management Convention ballast water monitoring will become a very important aspect of the port state control function," says Bonamin. However, he says that some existing ballast water testing methods could mean that incorrect measurements are taken, resulting in heavy financial penalties for shipowners. "Ballast water monitoring has to provide indicative readings with an unprecedented level of accuracy, more or less immediately and without having to send samples off to laboratories. We now have that capability."