ClassNK is participating in a technology development project with the Monohakobi Technology Institute Co., Ltd. (MTI), Nihon Shipyard Co., Ltd and technology suppliers Nabtesco Corporation and BEMAC Corporation. The project is intended to develop a remote engine-monitoring system that can judge/make a decision on how to recover using engine models (or 'simulators').
The project will receive funding from Japan's Ministry of Land, Infrastructure, Transport and Tourism (MLIT) as part of its 2021 Support Project for R&D in Promoting Aggregation and Cooperation in the Maritime Industry.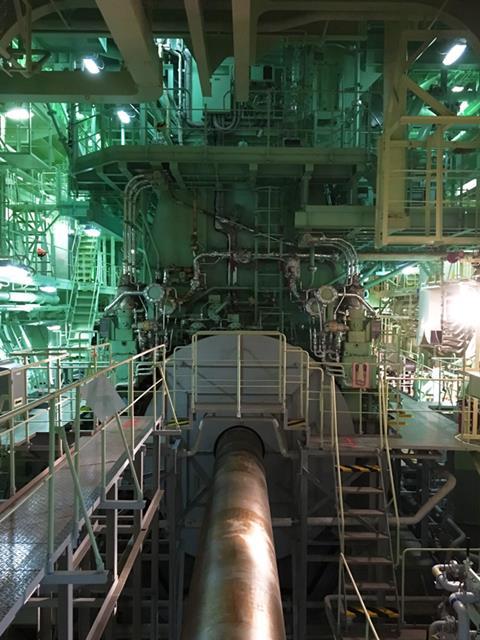 The project is intended to facilitate the semi-autonomous operation of coastal vessels, in response to concerns that a shortfall of future seafarers will lead to a shortage of specialist engineers qualified to oversee the engine operation of ships, which will hinder safe and efficient ship operations. The proposed system development is intended to enable an on-land monitoring center to monitor engine operations of multiple ships without any reduction in safety levels.
The Motorship notes that the project's rationale shares certain characteristics with DNV's ROMAS project, which we reported on in 2020, although the ClassNK project is expected to cover vessels operating along coastal routes, rather than the short hop ferries used in the DNV project.
The first phase of the Japanese project will see the development of a detailed model (or simulator) of an engine's operation which would contribute to a remote engine monitoring system, with the goal of allowing the engine to self-regulate (or make decisions about how to optimise performance). The Motorship notes that WinGD is currently in the process of developing a model-based approach for its latest engines.
The second phase of the project will see demonstration tests carried out, using the remote monitoring technology on actual ships.
MTI Co., Ltd.

Develop the failure-recovery-judgment system
Develop the engine remote monitoring system
Conduct demonstration tests of the developed systems on actual ships

Nabtesco Corporation

Develop the failure-recovery-judgment system
Conduct demonstration tests of the developed systems on actual ships

ClassNK

Evaluate the failure-recovery-judgment system and the engine remote monitoring system
Evaluate the results of demonstration tests

Nihon Shipyard Co., Ltd.

Develop the failure-recovery-judgment system
Conduct demonstration tests of the developed systems on actual ships

NYK Line

Provide the accumulated knowledge of a shipping company

BEMAC Corporation

Develop the engine remote monitoring system
Conduct demonstration tests of the developed systems on actual ships